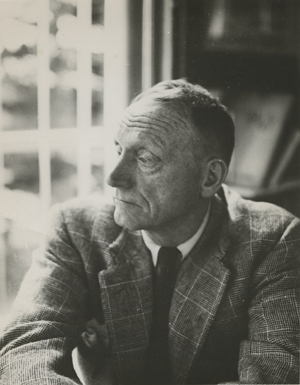 A new documentary on Robert Penn Warren—a distinguished writer, critic, professor and Vanderbilt University alumnus—will be shown on campus Jan. 23, followed by a Q&A with Tom Thurman, the film director and producer.
The screening of Robert Penn Warren: A Vision, which is free and open to the public, will be at 4:10 p.m. in the Kissam Center second-floor classroom.
The Kentucky Educational Television production is the first feature-length documentary made about Warren's life and career. Thurman, who has produced dozens of documentaries on prominent figures, was given access by Warren's family to more than 40 home movies for the production.
Warren was born in Guthrie, Kentucky, enrolling at Vanderbilt in 1921. He became the youngest member of the group of poets known as the Fugitives. Warren earned a bachelor of arts from the College of Arts and Science, graduating summa cum laude in 1925. He later served on the faculty of several colleges and universities, including Vanderbilt, and taught at Yale University from 1951 to 1973.
Warren received the Pulitzer price twice for poetry. In addition, his best-known novel, All the King's Men, was awarded the Pulitzer Prize for fiction in 1947.
Warren traveled throughout the United States in early 1964 to interview nationally-known civil rights leaders as well as others on the front lines of activism whose names might otherwise be lost to history. Warren's resulting book, Who Speaks for the Negro, was first published by Random House in 1965.
Digitized versions of the original reel-to-reel recordings that Warren made with Martin Luther King Jr. and many others in the movement are now searchable through the Who Speaks for the Negro website housed at Vanderbilt.
The documentary screening is co-sponsored by the Robert Penn Warren Center for the Humanities, American Studies, Cinema and Media Arts, Creative Writing, English Department and the Residential Colleges.