Media Inquiries
Latest Stories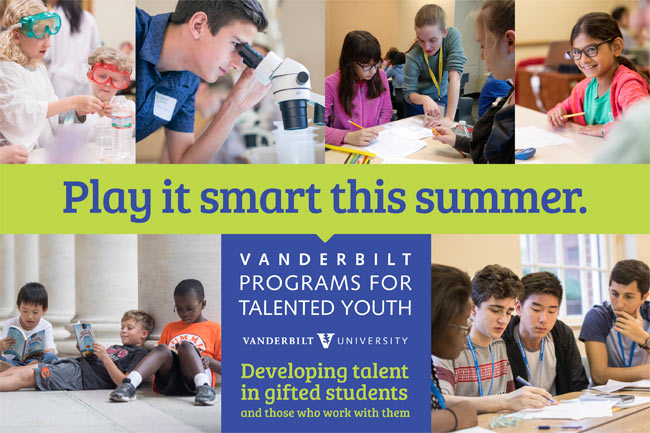 Are you looking for a summer opportunity for an advanced learner in your life?
Summer Academy at Vanderbilt for the Young (SAVY), a program through Vanderbilt Programs for Talented Youth (PTY), offers weekly summer courses (8:45 a.m.–3:45 p.m. each day) for qualifying gifted students in rising first through sixth grades. Career Connections, a day program within SAVY, offers accelerated courses for rising seventh-graders during the month of July.
The summer 2019 application priority window for SAVY and Career Connections is noon on Tuesday, Jan. 15, to noon on Thursday, Jan. 17. We strongly recommend applying during this 48-hour window to give your child the best chance of being admitted to a top-choice course.
Applications for SAVY and Career Connections can be found on the PTY website. While online applications are the preferred method, PDF applications also may be submitted.
Interested in learning more about student programs through Programs for Talented Youth?
PTY provides advanced learners in grades K-12 the opportunity to take accelerated courses in a creative, supportive and rigorous environment on the Vanderbilt University campus. PTY offers fast-paced, accelerated coursework taught by Vanderbilt faculty, scholars and content experts for academically talented and motivated students in grades K-12.
To see all course options for SAVY and Career Connections, or to learn more about Vanderbilt Summer Academy for students in grades 8-12, please visit the PTY website.
Contact: Emilie Hall, (615) 322-8261
pty.peabody@vanderbilt.edu