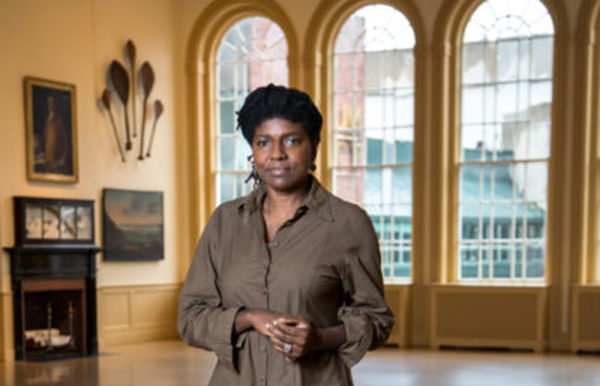 Maria Magdalena Campos-Pons, Cornelius Vanderbilt Professor of Fine Arts, has been awarded the prestigious Anonymous Was a Woman grant. Since 1996, this unrestricted award of $25,000 has been given annually to 10 artists over the age of 40 who have made significant contributions in their fields while continuing to create new works.
 In addition, the Royal Photographic Society has included Campos-Pons on its list of Hundred Heroines—created last year to identify and highlight outstanding contemporary women photographers. The heroines will be featured in a Royal Photographic Society exhibition in England.
"We are extremely proud–and not at all surprised–that Professor Campos-Pons has received these two honors," said John Geer, dean of the College of Arts and Science and Gertrude Conaway Vanderbilt Professor of Political Science. "She has made powerful contributions to the field of art, particularly because of the infusion of her personal family history and traditions. We are delighted that she is being recognized for her influential work."
The Anonymous Was a Woman award was established in response to a decision by the National Endowment of the Arts to cease support of individual artists. The award's name refers to a line in Virginia Woof's extended essay "A Room of One's Own."
Award founder Susan Unterberg kept her identity secret until breaking her silence in a July 2018 New York Times story. To date, Anonymous Was a Woman has awarded over $5.5 million to 220 artists.
Winners of the Anonymous Was a Woman grant were selected from among a competitive pool of applicants recommended by a distinguished group of art historians, curators, writers and artists who serve as anonymous nominators. The award announcement noted that Campos-Pons was born in Cuba and grew up on a sugar plantation in a family with Nigerian, Hispanic and Chinese roots. Her work—with themes that include history, memory, gender and beliefs—is strongly influenced by those traditions and beliefs passed down from her ancestors.
The Museum of Modern Art, the Indianapolis Museum of Art, the Peabody Essex Museum and the National Gallery of Canada are among the institutions where Campos-Pons has held solo exhibitions. She has presented over 30 solo commissioned performances and has participated in the Venice Biennale, the Dakar Biennale, Johannesburg Biennial and Documenta14, among others.
This year she is serving as artist-curator for the Havana Art Biennial in Cuba.