UPDATE 1/18/19: Tickets for April Ryan's keynote are sold out. If those who procured a ticket do not show up and seats become available on the night of the event, admission for those without tickets will be on a first-come basis. If those with tickets arrive late and all seats become full, there will be an overflow space provided.
Vanderbilt will host its 2019 annual Martin Luther King Jr. Commemorative Series Jan. 18-21, providing numerous lectures, service learning opportunities and events for the university community. The series, first held in 1985, affirms Vanderbilt's commitment to the goals of peace and racial justice to which King dedicated his life.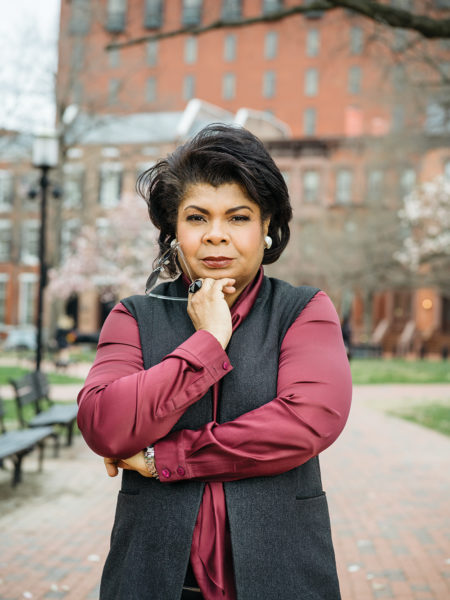 Political reporter April Ryan will deliver this year's MLK Commemorative Series keynote address on Jan. 21 in Langford Auditorium. Doors open at 6 p.m. and the program begins at 6:30 p.m. with a candlelight vigil followed by Ryan's keynote at 7 p.m. Ryan, who serves as White House correspondent and Washington, D.C., bureau chief for American Urban Radio Networks and is a CNN political analyst, will center her talk on this year's MLK Commemorative Series theme, "Our Lives. Our Movements. Our Responsibility." She is also a best-selling author of several books, including The Presidency in Black and White: My Up-Close View of Three Presidents and Race in America, which won an NAACP Image Award, At Mama's Knee: Mothers and Race in Black and White, and Under Fire: Reporting from the Front Lines of the Trump White House. Following the keynote, Ryan will host a book signing in the lobby of Langford Auditorium.
Admission to the keynote is free for all attendees; however, a ticket will be required for entry. Tickets for Vanderbilt students, faculty and staff are available online at Ticketweb and at the Sarratt Student Center Box Office. Tickets are also available at the same locations for the general public.
Leading up to the keynote, a number of activities will take place on campus to celebrate King's legacy. On Friday, Jan. 18, the Bishop Joseph Johnson Black Cultural Center will host an MLK kickoff event at noon. The program will include soul food, fellowship and remarks from the Rev. Teresa Smallwood, associate director of the Public Theology and Racial Justice Collaborative.
On Saturday, Jan. 19, the Office of Active Citizenship and Service invites the Vanderbilt community to participate in the MLK Joint Day of Service that brings together more than 400 volunteers from universities across the city of Nashville. From 11:00 a.m. to 4:30 p.m., participants will engage in projects addressing community needs through intentional service and action, including sorting items at food banks, helping develop urban gardens, painting, organizing local community centers and more.
The 2019 MLK Day Freedom March, scheduled for Monday, Jan. 21, the official MLK holiday, will be from 10 to 11 a.m. The march will conclude with a convocation at Tennessee State University's Gentry Center featuring an address from the Rev. William Barber Jr., president of Repairers of the Breach and architect of the Moral Monday Movement in North Carolina. Vanderbilt is providing shuttle buses to and from campus for its students who wish to participate in the march.
Additional programs scheduled for MLK Day on Jan. 21 include a tour by Nashville Freedom Rider Kwame Lillard of significant sites related to the civil rights movement in Nashville and afternoon teach-in sessions covering numerous topics, such as Black Lives Matter, resisting Islamophobia, microaggressions, LGBT civil rights and more.
On Jan. 28, the Monday following MLK day, Vanderbilt Law School will host its 2019 Dr. Martin Luther King, Jr. Memorial Lecture from noon to 1 p.m. in Flynn Auditorium. The program will feature dean and Chancellor's Professor of Law at the University of California, Irvine School of Law L. Song Richardson. Richardson is a criminal law expert with a focus on implicit bias in the legal system. The program is free and open to the public.
A full listing of Vanderbilt's commemorative events and details can be found on the university's Martin Luther King Jr. Commemorative Series website.