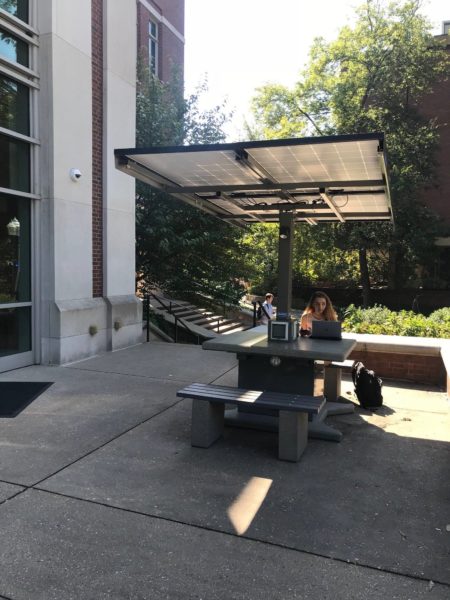 The Vanderbilt Green Fund is now accepting applications for 2019 projects. The deadline for applications is Jan. 21.

The Vanderbilt Green Fund, established in 2011 by members of Students Promoting Environmental Awareness and Responsibility (SPEAR) and Vanderbilt Student Government (VSG), is a fund set aside for sustainability projects proposed by students or faculty. This year, the student-run process will award $150,000 to innovative and educational ideas that aspire to make Vanderbilt more environmentally friendly. Any student, faculty, staff member or group associated with Vanderbilt University can propose a project for consideration.
Green Fund proposals will be evaluated by a student committee that is organized jointly by VSG and SPEAR. Top proposals will be recommended to the Green Fund Working Group, comprised of students faculty and staff, which will make the final funding decisions.
"The Green Fund gives students a way to propose ideas about how to make campus more sustainable. Thanks to a generous budget of $150,000 each year, a solid proposal can become a reality. Past applicants have found it very rewarding to make a real, tangible impact on campus that can be felt long after they graduate, such as the Currey Tennis Center solar installation," said Alex O'Shaughnessey, Vanderbilt senior and Green Fund coordinator.
During the fall 2018 semester, Green Fund projects implemented on campus included:
Three new solar picnic tables, which use photovoltaic solar panels to power charging stations for laptops and phones. Each table features a solar array, LED nighttime lighting, four 120-volt and eight USB charging stations, and two large benches for students. The systems will be able to provide 75-100 iPhone charges per day. The new tables were installed outside of Kissam Center, Highland Quad, and at the Commons Center.
Three new bike repair stations at Kissam, Rand and Blakemore in addition to preexisting locations at Carmichael Towers, Highland and the Commons Center.
The Green Fund application is available on the Anchorlink page for the Vanderbilt Green Fund under "forms."
More information about proposal requirements is available here.
Contact: Sustainability and Environmental Management Office
615-322-9022