(L to r) VISE Director Benoit Dawant, School of Medicine Dean Jeff Balser, Senior Associate Dean Gordon Bernard, Chancellor Nicholas S. Zeppos and School of Engineering Dean Philippe Fauchet cut the ribbon on VISE's new home (Anne Rayner/Vanderbilt University)
The Vanderbilt Institute for Surgery and Engineering celebrated its opening of dedicated space in Medical Center North Dec. 12 with a technology showcase of more than two dozen cross-disciplinary collaborations advancing healthcare techniques from the lab to patients.
The newly designed 7,000-square-foot suite with a mock operating room and large work space is expected to expand collaborations among engineering professors, physicians and students in engineering and medicine. Previously, VISE was a "virtual institute" with no physical home.
"This is the manifestation of what a great university committed to scholarly research and outstanding teaching does to change the world," Chancellor Nicholas S. Zeppos said. "The excitement and bold vision of our faculty and students engaged in research here is truly affirming of our university's mission."
Benoit M. Dawant, director of VISE and Cornelius Vanderbilt Professor of Engineering, credited the collegiality of the Vanderbilt faculty for the past three decades for the formation of VISE. "Before 2010, when the Vanderbilt Initiative in Surgery and Engineering was created, we had developed a network of collaborators who were successful, but the effort—as a whole—needed more organization," he said. "As we developed a critical mass of expertise in the area of interventional processes, we developed more visibility on campus, and VISE moved up from an initiative to an actual institute in 2015."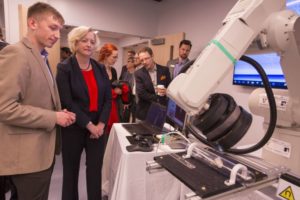 Among those Dawant thanked for providing resources were Zeppos and Jeff Balser, dean of the School of Medicine and president and CEO of Vanderbilt University Medical Center. Dawant also expressed gratitude to Gordon Bernard, senior associate dean for clinical sciences and executive vice president for research, for guiding VISE through its formative years; and to Susan R. Wente, provost and vice chancellor for academic affairs, for her support and assistance in finding a physical home for VISE. And he praised Philippe Fauchet, Bruce and Bridgitt Evans Dean's Chair in Engineering, for recognizing the strong potential growth of VISE.
Fauchet provided a brief "by the numbers" overview of VISE's success. 40 students have earned their doctorates since the program's start as an initiative, and there are 55 current students engaged in research at VISE. In addition, 26 patents and seven licenses have come out of this collaborative work, and the effort is supported by more than $30 million in active grants. Currently, there are 10 core engineering faculty and more than 40 clinicians affiliated with VISE.
"We have an incredibly compact campus where engineering and medicine are adjacent to one another, and that's a great advantage that can never go away," Fauchet said.
Balser noted the proximity of the new VISE home to the offices of many of the surgical department faculty and lauded the architectural design and construction teams for their work. "There could not be a better location," he said.
A small sampling of the technology demonstrations during the open house included: robots for trans-nasal surgery and for bladder tumor resection; a guidance system for cochlear implantation; a magnetic, flexible endoscope; a guidance system for liver surgery; use of coffee grounds to enhance accuracy in sinus surgery; and the "CleOpATra" surgical video system.
"We worked on 'CleOpATra' to solve the challenge of recording in the operating room for teaching purposes and data collection and assessment," said Danny Levy, a senior in computer engineering. "The camera is positioned on the upper chest, so it doesn't interfere with the procedure. The view of the surgical area is unobstructed." Among those guiding the students on the CleOpATra team is Alexander Langerman, associate professor of otolaryngology in the School of Medicine.
More information on the institute, its ongoing research and its new location are available on the VISE website.