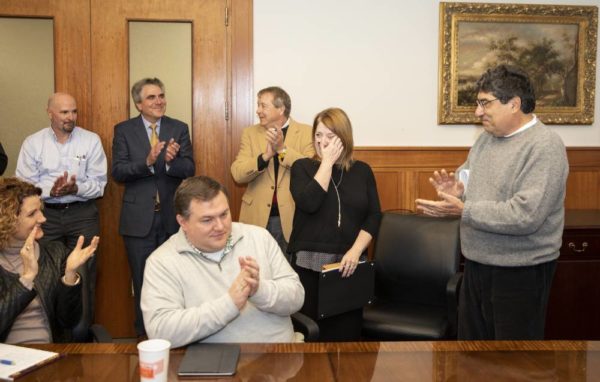 Olivia Hill and Maxine Maruszewski, two Division of Administration employees who work to maintain and improve the university's facilities, and Cheryl Bates, associate director for operations in Owen Executive Education, are the latest recipients of the Chancellor's Heart and Soul Staff Appreciation Award.
The award, created by Chancellor Nicholas S. Zeppos in 2017, recognizes staff who go far beyond their job expectations while carrying out the spirit and mission of Vanderbilt in all that they do. Staff are nominated for the award by their supervisors, managers and colleagues.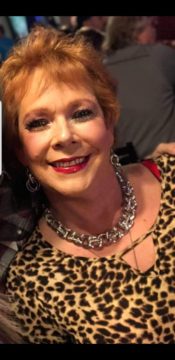 Hill, who works in the university's co-generation plant and utility distribution, was honored by the chancellor during a Facilities' town hall at the Student Life Center Nov. 14. Zeppos surprised Bates with her award during a staff meeting at the Owen Graduate School of Management Nov. 27. And Maruszewki was celebrated by the chancellor and colleagues in Project Safe and Facilities at the Bryan Building Dec. 5.
Hill has worked in every capacity in the utilities group from operator to assistant manager over the past 23 years. "She is described by her colleagues as a dedicated employee willing to work long hours in extreme conditions without complaint," Zeppos said. "In every area of her work, she has demonstrated exceptional professionalism combined with true compassion and concern for her fellow workers."
Zeppos noted that under her leadership, Hill's teams have completed more training hours than any other work group within Plant Operations three years running.
Hill was nominated by Mark Petty, assistant vice chancellor for plant operations, with support from several other staff members. They note that Hill, who was previously known as Troy Odum, recently shared with her colleagues that she identifies as transgender. "Hill's first concern was for her peers and fellow employees, whom she felt would be shocked by this revelation. The reaction of the work team was one of overwhelming acceptance and welcome," Petty said.
Bates, who joined the Owen team in 2014, coordinates logistics and customer relations for 40 programs in Executive Education that serve approximately 1,000 students who are practicing managers each year.
Bates was nominated by Skip Culbertson, executive director of Owen Executive Education, and endorsed by M. Eric Johnson, Ralph Owen Dean and Bruce D. Henderson Professor of Strategy. They relayed that Bates has provided strong leadership, energy and vision for One Owen, a staff organization focused on team culture. Bates launched the Creativity Carnival to engage the entire Vanderbilt community in helping local charities. The annual one-day event brings faculty, staff and students together for shopping and tasting with homemade crafts and baked goods. The carnival is combined with a Day of Giving, in which canned goods are collected for Second Harvest Food Bank and personal care items donated for area nursing homes.
Zeppos described Bates' position as similar to being an air traffic controller, except that her expertise is managing operations for high-performing people. "In addition to your very demanding job, you invest significant time and energy in helping Owen and Vanderbilt give back generously to local charities that need our support," Zeppos said. "Owen is a much better workplace because of you."
Maruszewski, who has worked in Housekeeping for 13 years, was nominated by Cara Tuttle Bell, director of the Project Safe Center. She wrote that Maruszewski is "warm, friendly, generous and sensitive to the nature of our work and the students, faculty and staff who visit our building. She cares about her work, our space, and us."
"We want all of our spaces to be safe and beautiful, but when we think of the vital work that is done in the Project Safe house, it's even more important to have a clean, organized and welcoming space," Zeppos said.
Hill, Bates and Maruszewski all expressed surprise and deep gratitude for the recognition. Zeppos presented each of them a $1,500 check, a certificate, and a wooden pen and box carved out of the doors of historic Alumni Hall by artist Brenda Stein.