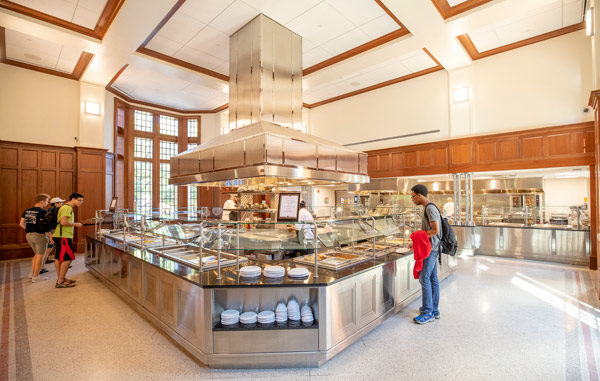 As food allergies and intolerances grow nationwide, Vanderbilt Campus Dining continues to improve the experience of diners with food allergies and intolerances on campus. Campus Dining is dedicated to supporting this population of students and hopes to influence other colleges and universities to do the same.
"It can be really challenging to have a food allergy in college and can affect a student academically, socially and physically if the right steps are not taken to ensure their safety and well-being," said Meredith Williams, a staff registered dietitian and master trainer. "We want to be builders of community, so our hope is to offer the same communal and social experience in our dining halls for those with dietary needs as those without so that our students can be as successful as possible while at Vanderbilt."
Campus Dining is committed to assisting students with food intolerances, sensitivities, allergies and celiac disease. From an allergen-friendly (free of the top eight allergens) restaurant to online special menu ordering, allergy training and food sensors, Campus Dining ensures all residential students, allergies or not, have a positive experience in the dining halls.
"I am so very lucky that Vanderbilt has such an incredible dining team that truly dedicates themselves to the safety of students with food allergies and celiac disease," Vanderbilt sophomore Valerie Kraft said. "Vanderbilt works directly with students to provide safety and transparency at every level."
Special menu ordering
Vanderbilt is a residential campus that is dedicated to providing an inclusive community in the dining halls. Part of that experience is dining with fellow students on the VU meal plan. Campus Dining offers students with dietary needs the ability to preorder their specially prepared food so they can dine with their friends, classmates and faculty.
Students receive access to an online portal where they are able to place orders according to their dietary needs and restrictions. Students are able to choose the location and time and can pick up their meal from a member of the culinary or management team.
2301
2301 is Sarratt Student Center's newest dining venue that serves dishes free of the top eight allergens, plus sesame. This location is certified "Top 8 Free" by Kitchens with Confidence, the full-service kitchen auditing service for food service operations. Students may enjoy a safe, nutritious and personalized meal during breakfast, lunch or dinner with their friends and classmates.
Food sensors
Campus Dining utilizes Nima food sensors for students with gluten allergies and sensitivities. This portable, handheld food sensor is able to test a student's prepared meal and gives results within minutes. This ensures the prepared meal is free of gluten ingredients and free from cross contact. Campus Dining is also currently testing Nima's sensor for peanuts as well.
"Not only is the Nima sensor able to provide peace of mind for students with gluten allergies and celiac disease, but it also can provide useful information to both the university and prospective students," Williams said. "Vanderbilt is the first to use Nima on a university-wide basis, and I'm hoping that we can be trailblazers for other universities to follow in our footsteps."
Allergy training
AllerTrain is an ANSI-accredited food allergy and gluten-free training course offered by MenuTrinfo. The course, taught by Williams, teaches food service professionals about the top foods causing food allergies, the proper protocol for preparing food to avoid cross contact, and how to better serve diners with special dietary needs. This helps food service establishments to avoid food allergy-related incidents as well as prepare them to handle such incidents, should they occur. All Campus Dining staff are trained in this course.