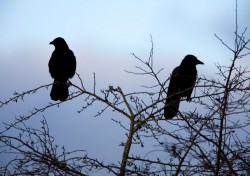 Plant Operations is implementing distress calls and other methods in an effort to drive roosting birds from campus near the Chaffin Place and Lewis House residence halls, South Garage and the Veterans Affairs Hospital. Humane methods of dispersal are being used to frighten the birds away without causing them physical harm.
Harassment tactics—such as audible distress calls, laser lights, pyrotechnics, noise bangers and propane cannons—are being used. These methods are meant to make the birds feel uncomfortable and encourage them to relocate to a calmer area to roost overnight.
Dispersal efforts may be conducted up to twice a day: in the early morning at sunrise and in the late evening at sunset. Plant Ops will refrain from using the cannons, bangers and pyrotechnics during the morning hours unless absolutely necessary. These efforts will continue for two to three weeks, or until the birds relocate off campus.
Over the past several weeks, an increasing buildup of crows has been observed in the area. The droppings created by these birds pose the threat of histoplasmosis, which can lead to serious respiratory infections.