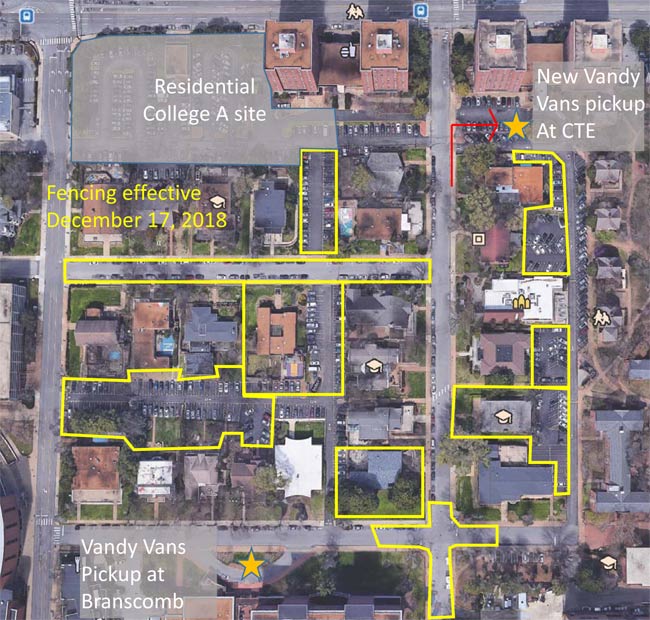 Ongoing construction work in the West End Neighborhood will result in the immediate relocation of a VandyVans stop as well as additional parking and roadway closures during winter break.
The VandyVans stop on 24th Avenue will relocate to the lot in front of Carmichael Towers East, effective Friday evening, Nov. 30.
The construction project, announced last academic year, will establish new residential colleges and a beautification effort along the West End corridor of Vanderbilt's campus. A significant transformation is underway for the area that includes Carmichael Towers, Greek Row and West Side Row.
Many parking lots within the West End Neighborhood will close permanently, including fraternity and sorority lots, as the area transforms to become more accessible and pedestrian-centric.
In addition, Kensington Place will be closed permanently to traffic and parking on Dec. 15 to finish the storm drain project and prepare for the first phase of the beautification project that will begin during the spring semester.
To aid students during this time:
Limited parking for F permit holders will be available on portions of 24th Avenue and Vanderbilt Place for the spring 2019 semester.
Parking Services will continue to make five floors of the 25th Avenue Garage available to F permit holders.
A VandyVans stop was installed at the 25th Avenue Garage location and will continue to support increased student traffic in the area.
The VandyVans stops in the West End Neighborhood will be located at Branscomb and the lot in front of Carmichael Towers East. There may be slight adjustments in the routes taken due to construction, but schedules will not be impacted.
Be sure to download the DoubleMap app and select Vanderbilt. This allows riders to track the progress of shuttles in real time.
Additional short-term and long-term mobility solutions for the area are being addressed through the MoveVU process, which involves the broader campus community.
To keep community members apprised of construction progress in the West End Neighborhood, a regular newsletter was established in spring 2018. Read past editions of the West End Neighborhood Newsletter, or sign up to receive the newsletter.
To learn more about construction efforts—including the upcoming beautification efforts and construction of residential colleges and new student community spaces—visit the West End Neighborhood website.
For more information about these parking adjustments, contact Vanderbilt Parking Services at (615) 322-2554.