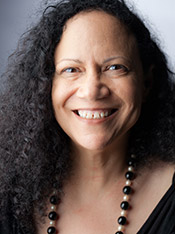 Vanderbilt Writer-In-Residence Alice Randall, a best-selling author and award-winning songwriter, will lead a lecture on "Flags and Anthems" focusing on how these displays of nationality shape the Olympics. The program is scheduled for Nov. 29 from 11:30 a.m. to 1 p.m. in the Football Meeting Room of the McGugin Center.
"Flags and Anthems" is part of the yearlong Sports and Society Initiative series "A World of Possibilities: Examining the Olympics from Diverse Angles." "Flags and Anthems" is free and open to the public, and light refreshments will be served. Public parking is available in the 25th Avenue Garage at the corner of 25th Avenue South and Highland Avenue.
Randall will examine the history of patriotism and protest involving the American national anthem and flag. She will discuss athletes who used their platform to confront the issues of their day, such as Jesse Owens in the 1936 Olympics and Tommie Smith in the 1968 Olympics. An accomplished songwriter, Randall also will explore the lyrics behind "The Star Spangled Banner" and other anthems that have been played at Olympic medal ceremonies throughout time and the implications of these anthems being played on the global stage.
As Vanderbilt writer-in-residence for African American and Diaspora Studies and English, Randall teaches courses on creative writing, soul food and African Americans in children's literature and film.
Randall has written and published novels, children's fiction, cookbooks, screenplays and more. She is the author of multiple bestselling books, including Ada's Rules, Rebel Yell and The Wind Done Gone. An accomplished songwriter, the lyrics she wrote for Trisha Yearwood's "XXX's and OOO's" made Randall the first black woman in history to have a No. 1 country song.
For books and resources on "Flags and Anthems" in advance of this program, visit the Sports and Society research guide. More information on this program and others in the series is available on the Sports and Society Initiative website.