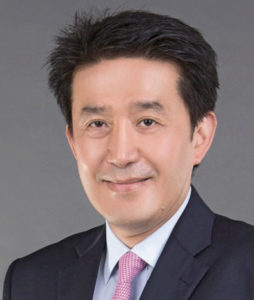 Jack Wei-chieh Lin is making an impact on global investors.
In May he was appointed managing director and head of Asia Pacific client coverage for MSCI Inc., a leading provider of indexes and portfolio construction as well as risk-management tools and services for global investors. MSCI's clients rely on its offerings for deeper insights into the drivers of performance and risk in their portfolios, broad asset class coverage and innovative research. Lin is tasked with driving the growth of MSCI's businesses across the Asia Pacific region. In October he was appointed to MSCI's executive committee.
"Ultimately, we're helping investors to achieve better results," he says. "Much of Asia Pacific went through a rapid economic transformation during the past 50 years. Many countries went from a very low income level to first-world levels, exceeding that of many OECD [Organisation for Economic Co-operation and Development] member countries. However, the level of sophistication for Asian markets and Asian investors in general still lags behind U.S. or European markets in many respects.
"We're playing a critical role to help asset owners and asset managers in Asia make better investment decisions."
For example, MSCI's indexes are used by the national pension funds, central reserve banks, insurance companies or sovereign wealth funds of many Asian countries. MSCI draws on years of research in compiling what Lin calls "an optimal basket of stocks or securities" that is representative of each respective market or asset class.
Previously, Lin spent more than two decades with asset managers Franklin Templeton, Janus Capital Group and Pioneer/Amundi Investments, and was a pioneer in developing the Asian asset management industry.
Managing money dates back to Lin's university experience when he helped maintain the budget for Impact Symposium, Vanderbilt's renowned lecture series that began in 1964 as a way to bring world leaders to campus to speak on both sides of controversial issues. "They gave us a decent-sized budget to create programs that would allow us to bring to campus leading, headline speakers across many different areas of discipline," he says.
At Vanderbilt he majored in economics and minored in political science, a course of study that gave him the tools to distill complex information.
"Some people debate the value of a liberal arts education," Lin says. "I firmly believe that my bachelor's at Vanderbilt gave me the analytical skills and the critical thinking that have allowed me to build my career."
—ANDREW FAUGHT