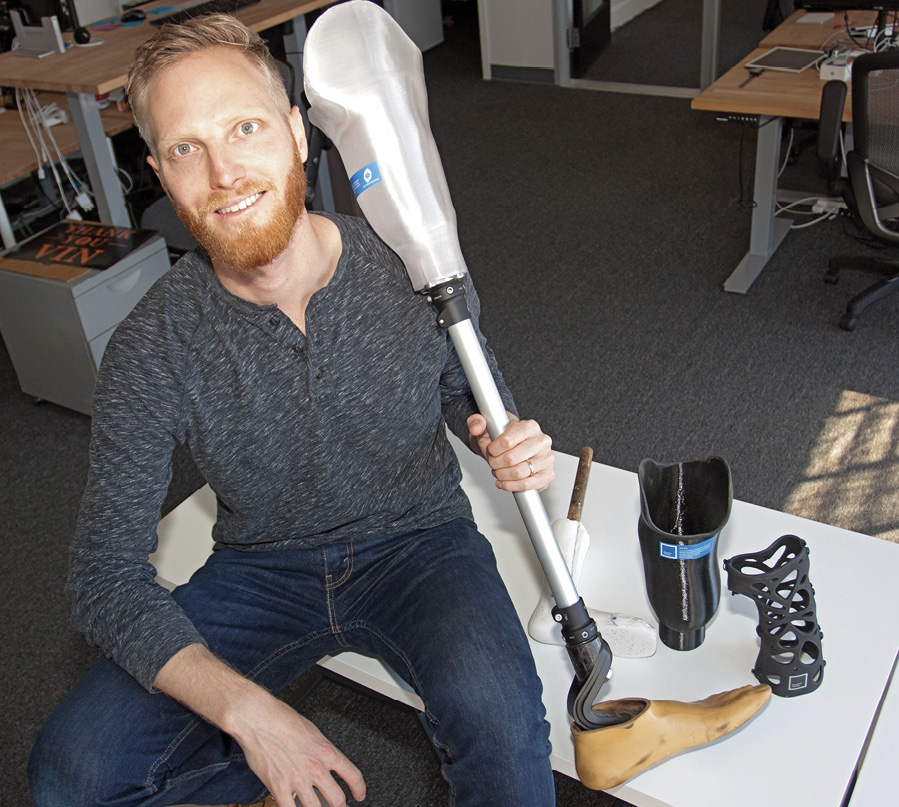 Garrett Spiegel long intended to make the design of custom-fabricated orthotics and prosthetics easier and quicker, especially in parts of the world with limited medical resources and high need.
His company, Standard Cyborg, which he co-founded in 2015 with Jeffrey Huber, now has a growing customer base for its orthotics and prosthetics software, currently used across 23 countries on six continents, including a distribution partnership with industry behemoth Össur.
The two were named to Forbes' 2018 "30 Under 30" list in the health care category, and Standard Cyborg is currently expanding to support custom design of other products, such as football helmets, shoes, eyeglasses and knee braces. Their latest development is what Spiegel calls "the API [application programming interface] for the physical world," enabling companies to add 3D scanning, sizing and analysis, and custom design using depth cameras included in iPhones and future Android phones.
"We always knew this was the piece of software we wanted to build," says Spiegel, who founded the Vanderbilt chapter of Engineering World Health and is involved with the School of Engineering's Alumni Mentor program. "We've created a generalized set of scanning and geometry tools so that companies don't have to reinvent the wheel. This will be a system that removes a lot of hurdles."
For Spiegel it is familiar territory. After graduating from the School of Engineering, he was a program associate in global health technology at Rice University, where he managed the design and development of the DoseRight Syringe Clip. The small plastic clip, which fits into the barrel of an oral dosing syringe, improves the accuracy of dosing for liquid medications and has been a cornerstone of Swaziland's efforts to prevent HIV transmission from infected mothers to their newborns and infants. Afterward, at nonprofit product development company D-Rev, Spiegel was behind the development and technical design of products to treat jaundice in more than 462,000 newborns in 52 countries.
"I was always interested in health care and improving people's health, but I knew my skill set and interests wouldn't be the medical practitioner route," Spiegel says. "I'm more of a systems-level thinker."
—PAM COYLE