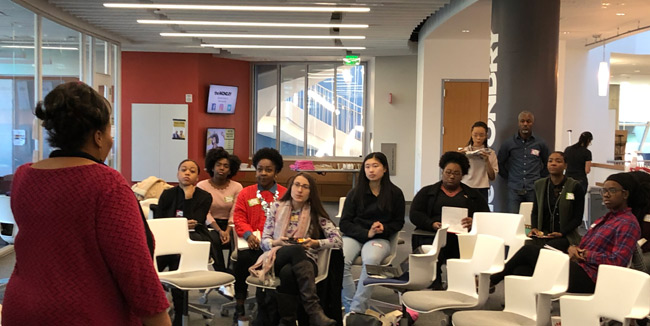 The Wond'ry played host to 21 women of color from Vanderbilt, Belmont, Lipscomb, Middle Tennessee and Spelman universities for the Nov. 10 kickoff of the first Disruptive Women Lead cohort.
Disruptive Women Lead is aimed at bridging the gap between organizations that want race and gender diversity in their boardrooms and management and the women who could fulfill those roles.
The event began with a welcome from Vanderbilt Vice Chancellor for Equity, Diversity and Inclusion and Chief Diversity Officer James Page, followed by interactive sessions led by Vanderbilt Vice Provost for Inclusive Excellence Melissa Thomas-Hunt and Assistant Provost for Inclusive Excellence Tiffany Galvin Green. Yolanda Shields, a Wond'ry mentor and founder of Yes Builds, rounded out the day of learning, sharing and connecting, with an impactful message of "setting a place for others at the table, after you have yours."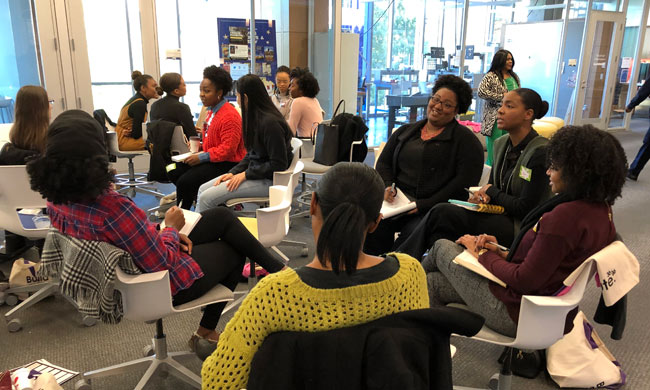 The cohort will participate in six sessions and a private online community that will provide networking opportunities to the women long after the sessions end. Some of the upcoming cohort sessions will include Deloitte, which will provide both a leadership assessment and a facilitator to conduct it; Do Good & Juggle, a leadership training platform that using juggling to share its message of the joy of leadership; and nonprofit consultant Jenni Hargrove, who will lead a session on best practices for nonprofit boards.
Participants in the inaugural cohort are a diverse array of articulate, intelligent, educated young women of color, who each echoed the same sentiment of being glad to have a network of women like them who understood the challenges they faced.
"If I do not include the work I have been doing in college, I am three months into my career," said Rachel, a member of the inaugural cohort. "It is amazing to see women who look like me doing inspirational things in this community and abroad. Thank you for allowing a safe place for growth and for people to share things they have learned throughout their career journeys."
"The interest in and support for this program have been overwhelming," said Dominique Anderson, who leads equity, diversity and inclusion at the Wond'ry and creator of Disruptive Women Lead. "Equally as overwhelming is the fact that in 2018, we still have such disparities in equitable access to opportunities that we need programs like this. I'm glad I could be a part of the change."
For more information about Disruptive Women Lead, contact Dominique Pryor-Anderson at (615) 875-9614.