Colleen Conway-Welch, Nursing Legend
by
Jim Patterson
Nov. 19, 2018, 9:28 AM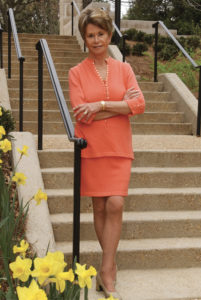 Colleen Conway-Welch, who during her 29 years as dean of the Vanderbilt University School of Nursing transformed nursing education at Vanderbilt and nationally, died Oct. 12 following a battle with cancer.
Linda D. Norman, current dean of the School of Nursing, knew Conway-Welch for more than three decades and was recruited by her to join Vanderbilt. "She has long been the role model for nurse leaders, always putting other people first and inspiring others to excellence. Vanderbilt and the nursing profession have lost a passionate advocate and visionary."
Conway-Welch entered Georgetown University School of Nursing at the age of 16 on a full scholarship. She also earned degrees from Georgetown, Catholic University School of Nursing and New York University, where she received her doctorate.
Beginning her career as a labor and delivery staff nurse at Georgetown University in the 1960s, she continued in the evolving field of labor and delivery in Honolulu, moved to work in emergency rooms in San Francisco, and then became a nurse-midwife.
Her career progressed with additional stops in Virginia, New York City and Southern California. In the early 1980s, Conway-Welch was recruited to the University of Colorado Health Sciences Center in Denver to run its nurse-midwifery program. In 1984 she was recruited to become VUSN's dean. At the time, the School of Nursing was educating approximately 100 baccalaureate students and a small number of master's students; it had no doctoral program. Conway-Welch soon overhauled the school's curriculum, starting with the introduction of an accelerated master's program.
Under her leadership VUSN opened its Ph.D. program in 1993 and its Doctor of Nursing Practice program in 2008. Today, VUSN is the largest professional school at Vanderbilt, one of the largest schools of nursing in the country, and ranked as a top nursing school nationally. Conway-Welch retired as VUSN dean in 2013 and was named dean, emerita, by the university.
Conway-Welch received honorary degrees from Cumberland University, Georgetown University and the University of Colorado, and was a fellow of the American Academy of Nursing and of the American College of Nurse-Midwives. In 2016 she was inducted into the Tennessee Health Care Hall of Fame and was named a Living Legend by the American Academy of Nursing. In 2017 she was elected to the Modern Healthcare Hall of Fame, and in March 2018 she was honored with the Health Education Visionary Award from the Society for Women's Health Research.
She also was active nationally in health policy and education. She was named by President Ronald Reagan to serve on the President's Commission on AIDS in 1987. In 1997 she was elected to the Institute of Medicine of the National Academy of Sciences, and in 1998 she was appointed to the National Bipartisan Commission on Medicare, a 17-member commission made up of 10 members of the Senate and the House of Representatives and seven leaders in the health care community. Conway-Welch was a founder of the Friends of the National Institute of Nursing Research, an advocacy group that supports the nursing research arm of the National Institutes of Health.
Shortly after beginning work as dean, Conway-Welch met prominent local businessman Ted Welch. The couple married and were a fixture in political, charity and civic events for decades prior to his death in 2014. She is survived by two stepdaughters, Alicia Welch Davenport, BSN'85, and Terri Welch Schmidt-Fellner, BA'81.
—Joan Brasher