A Family Legacy Inspires Students
by
Jim Patterson
Nov. 19, 2018, 9:28 AM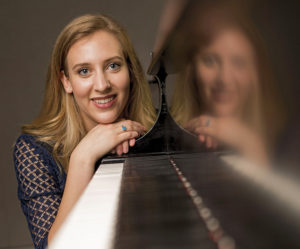 As a young girl, Natalie Vlach, BMus'18, fell in love with her electronic keyboard. Unlike some childhood infatuations, however, Vlach's passion for piano endured and deepened, leading eventually to her winning the Linde B. Wilson Scholarship at the Blair School.
"Blair is an incredible place," Vlach says. "I'm so grateful to the Wilson family for all they have done for Blair and for making my dream school affordable. I'm inspired by their generosity, and with a concentration in teaching and a minor in medicine, health and society, I hope I can have an impact like theirs."
Without the generosity of the Wilson family, Vlach—who now works for GLG Inc., one of the world's largest platforms for professional learning—would not have found a path from Vanderbilt to Austin, Texas, where she now lives and works.
The Linde B. Wilson Scholarship was created in 2009 by Blair J. Wilson, BA'74, in honor of his wife, Linde, BA'74, MLS'76. The scholarship fund has provided support for eight students since its inception, and the Wilsons recently added to it, bringing its value to more than $2 million.
"I am so honored to have my name on this scholarship for fine, young musicians. The Wilson family has deep ties to the Blair School, and it is a pleasure to make opportunities possible for the most talented musicians to benefit from the Vanderbilt experience," says Linde Wilson. "The Wilson family had a vision of what a strong music school would mean to the Nashville community through the creation of Blair. The Linde B. Wilson Scholarship helps build that legacy by supporting students who further our school and our society in so many ways."