Smoking rate at VU falls to 4 percent
Nov. 18, 2018, 8:42 PM
By Wayne Wood
The rate of smoking at Vanderbilt University has dropped significantly in the past 15 years, to only 4 percent, down from 9.7 percent in 2003.
That means the rate of smoking at the university is below the Tennessee rate of 22 percent and the U.S. rate of 16 percent. The VU rate is even below the Centers for Disease Control Healthy People 2020 national goal of 12 percent. The smoking rate at Vanderbilt University Medical Center is 3.5 percent, down from 12.1 percent in 2003.
The Vanderbilt smoking rates come from the data that Health Plus, the worksite wellness division of Vanderbilt Health and Wellness, compiles each year as part of its "Go for the Gold" program.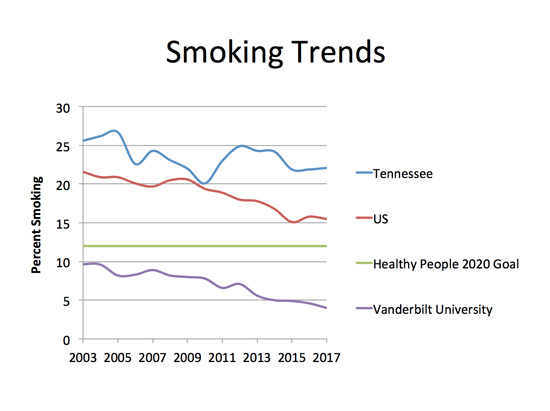 "We are thrilled that we have already met the nation's Healthy People 2020 campaign goal to keep the smoking rate among adults below 12 percent," said Dr. Rosette Chakkalakal, medical director of Health Plus.
"This decline in smoking over time shows that at Vanderbilt we put into practice what our research tells us are best practices," said Dr. Mary Yarbrough, executive director of Occupational Health and Wellness. "This is what a learning health system is all about."
Yarbrough said it is unlikely that any one "silver bullet" reduced the smoking rate so dramatically over time. Instead, a series of decisions reaching back decades have gradually reduced the rate.
Among the changes were the ban on indoor smoking in 1989; the establishment of designated smoking areas in the 1990s; the smoke-free campus policy adopted in 2008; and the many resources made available to help employees who smoke and who want to quit.
One employee who used some of those resources to quit smoking is Henry Domenico.
"I was a smoker for 12 or 13 years," he said. "I started in high school."
Over the years Domenico worked jobs in construction and landscaping, fields in which smoking is common, but when he began working in health care, he noticed that few of his colleagues smoked.
"Working in health care, you kind of feel like a black sheep," he said. "I didn't want to be a smoker my whole life."
He contacted Health Plus and requested a tobacco cessation toolkit and was determined to make it work for him. It took a couple of tries, but Domenico kept at it and now has been a nonsmoker for four years.
"It's kind of scary to quit, but it's an empowering thing," he said. "You're kind of taking back control of your own life."
The Great American Smokeout, the annual event sponsored by the American Cancer Society urging smokers to consider quitting, was Nov. 15.
Even with the relatively low smoking rate at Vanderbilt, there are still employees who want to quit, said Brad Awalt, Health Plus manager. He has a message for those who fall in that category: "If you smoke, keep trying to quit," he said. "We are here to support you."
Among the resources available to help employees quit smoking: