Media Inquiries
Latest Stories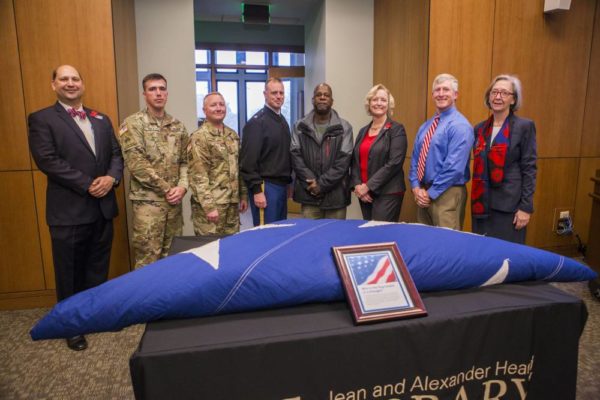 An American flag that was the backdrop for a momentous time in Vanderbilt University's civil rights history will be preserved in an archive vault at the Jean and Alexander Heard Libraries—after a poignant ceremony that paid tribute to veterans and those now serving their country.
Students with Vanderbilt's Army ROTC unit presented the folded flag, which flew during storied 1960s Impact symposiums, to University Librarian Valerie Hotchkiss at the Central Library on Nov. 12, this year's observed date for Veterans Day.
"The flag is a reminder of Vanderbilt's longstanding position as a leader on social justice issues, and our libraries are proud to play a role in its preservation," Hotchkiss said. She relayed that two library staff members, Scott Martin and James McCullough, had discovered the half-century-old flag hidden away in Alumni Hall. Martin Luther King Jr. and Robert F. Kennedy were among prominent leaders who had spoken in front of this flag.
Also speaking at the celebration were Provost and Vice Chancellor for Academic Affairs Susan R. Wente and Lt. Col. Dustin Mitchell of Vanderbilt's Army ROTC.
"As one of America's leading research institutions, advancing and serving our nation is at the core of our mission and identity at Vanderbilt," Wente said. "It has been our honor and our privilege to give back to this great nation, and some of this impact has come from our graduates who have become military leaders. In addition, we have current students who are preparing to serve by participating in our ROTC programs, continuing a long tradition."
Wente noted that next month marks the 100th anniversary of when then-Chancellor James H. Kirkland invited the ROTC program to campus. "We are expanding on this legacy—thanks to the generosity of the Lee and Ramona Bass Foundation—which donated $25 million to help support the establishment of the Bass Military Scholars Program. It will provide financial support to military officers and veterans who enroll in our graduate and professional programs across five different schools and colleges."
Mitchell also spoke on the long tradition of service to the nation among Vanderbilt alumni and students and the values represented within the flag. "It is fitting that one of our greatest Americans, Dr. Martin Luther King Jr., spoke on campus in front of the flag that we will officially present to the library staff today," Mitchell said. "He encouraged us all to judge each other based on the content of our character, rather than the color of our skin; for the American flag represents inclusiveness, opportunity, selfless service, equality and the freedom for each to choose their own way."
The ceremony concluded with Mitchell's call "to recover" the historic flag, with participating ROTC members presenting the flag to Hotchkiss; and the inspirational singing of the National Anthem by Blair School of Music student Matthew Shorten.