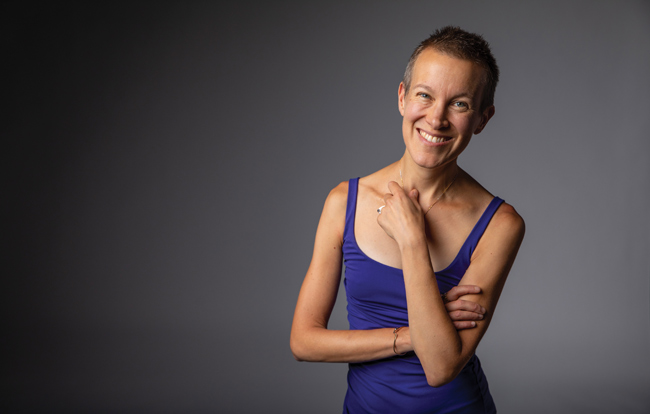 Molly Barth was just following the advice of her orthodontist when she chose the flute as her instrument in fourth grade.
"According to him, I had to either play percussion or the flute, because with my braces, nothing else would work," she said. "So I chose the flute. I was very attached to the instrument from day one. It's a really fun adventure for me to get to know all the possibilities of the instrument."
Barth's attachments to the flute and to figuring out what it can contribute to contemporary chamber music are mirrored in her professional achievements. She was awarded first prize at the 1998 Concert Artists Guild International Competition and received the 2000 Naumburg Chamber Music Award. As a founding member of new music sextet Eighth Blackbird, Barth won the 2007 Best Chamber Music Performance Grammy.
A former member of the Beta Collide New Music Project, Barth has been a member of the Zohn Collective since 2017. Both groups produce contemporary chamber music projects with artists across a variety of disciplines. And she is one half of Duo Damiana along with University of Kentucky guitarist Dieter Hennings, also a member of the Zohn Collective.
Barth comes to Vanderbilt from the University of Oregon, where she collaborated with other artists and faculty in numerous disciplines, including theoretical physicist Amit Goswami.
"I was kind of his backup band," she said. "I love doing collaborations like that. I want to do projects like that here and reach out across campus."
Barth says she was drawn to Vanderbilt and Blair School of Music because of the engagement of faculty within their fields and also with their students. "To see what everyone is doing, how they're involved in their fields, how they involve their students in their own development as professionals—this is an approach that reflects my own.
"I love the teaching I do, and my teaching is so related to my performance," she said. "I learn as much from my students as they do from me."
As with her own undergraduate experience at Oberlin College Conservatory of Music—she also holds degrees from the University of Cincinnati College-Conservatory of Music and Northwestern University's Bienen School of Music—Barth finds that Blair students have interests in other areas as well.
"Nurturing their full development is very important," she said. "I need to be able to direct the student toward a path that's going to be productive for that student. Of course, I'm an advocate for them to go into the field of music. I'm also an advocate for them to integrate music into their lives in whatever capacity they see fit as professionals."