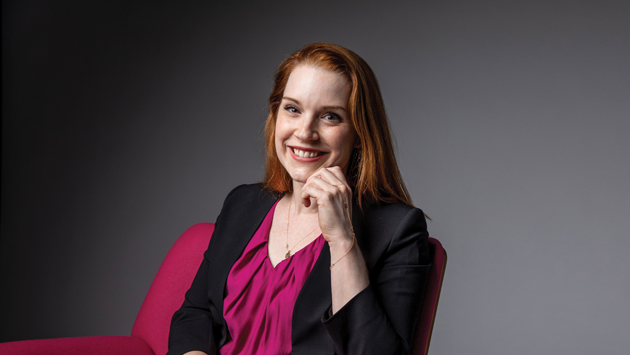 When Jeanette Bauchat was younger, she debated whether to become a physician or a veterinarian. After considering both options, she made her decision and never wavered. She was 2.
"I've always been fascinated by blood, and I was one of those kids who always wanted to watch the nurse give me a shot. I liked human anatomy … it just never freaked me out," recalled Bauchat, associate professor of anesthesiology and the new chief of Vanderbilt University Medical Center's Division of Obstetric Anesthesiology.
Bauchat earned her bachelor's degree from the University of Michigan. As a medical student at Northwestern University's Feinberg School of Medicine, she planned to go into obstetrics and gynecology. When she did her anesthesia rotation at the end of her third year, however, she realized she was drawn to it, and again she was faced with a decision—or so she thought.
"Then I found out I could still be involved in OB/GYN as an anesthesiologist," she said. "In residency, I decided to do subspecialty training in obstetric anesthesia, so I did a year of fellowship training at Northwestern University in Chicago."
A self-described feminist, Bauchat is passionate about women's health and the disparities therein, which drives her commitment to caring for this population.
"I'm working with my colleagues to ensure high-quality care is being delivered to women on labor and delivery and in the gynecological operating rooms in an era when maternal and surgical patients are becoming sicker," she said. "We are implementing enhanced recovery protocols and other standardized care approaches to achieve good clinical outcomes. My aims include improving processes and systems to achieve the best outcomes in women's health."
A common misconception is that anesthesiologists miss out on the opportunity to establish relationships with patients because they are responsible for putting them to sleep. "One of the reasons I love OB/GYN is my patients are awake, and I get more opportunity for interactions with them and with women in general," Bauchat said.
She and her husband, Chris Wong, have been in Nashville for six months and are pleasantly surprised by, and enjoying, the food scene. She keeps a list of restaurants they have tried and ones they are looking forward to checking out.
"Everyone says the traffic is really bad here, but when you come from Chicago, by comparison, it's fantastic," she said. "We have a big backyard, and the kids (ages 8 and 11) love it. The landscape in Nashville is gorgeous—the lush trees and hills. Sometimes I sit back and think it's just so beautiful."
It appears she's made another great decision.