New faculty: Hao Wu
by
Joan Brasher
Nov. 12, 2018, 4:00 PM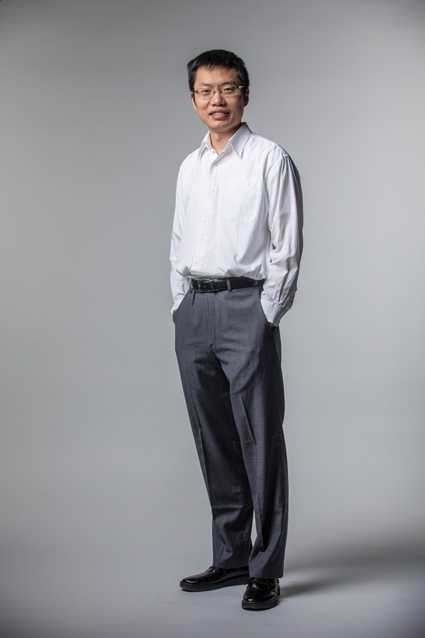 Hao Wu was interested in psychology as a high school student but was conflicted about pursuing this field for his career. "In my country of China, the hard sciences, like engineering and math, are typically preferred over, say, psychology, so I pursued the mathematical side of psychology," he said.
Wu did so by earning an undergraduate degree in statistics at Peking University in Beijing, followed by two master's degrees—in statistics and quantitative psychology—at Ohio State University, where he also earned his doctoral degree in quantitative psychology.
So what is quantitative psychology? It's not easy to explain to people outside the field, he said.
"My colleagues might say, 'I study depression' or 'I study infants,' but what I do may not sound as interesting to someone from outside," he said. "My specialty is in psychometrics, the study of statistical methods typically used to analyze survey and questionnaire data in psychological and educational research. In particular, my research evaluates whether a statistical model is appropriate for the data, and to what extent that statistical model provides a good description of the data."
Wu comes to Vanderbilt from Boston College. Recently elected into the prestigious Society of Multivariate Experimental Psychology, he now serves in Peabody College's Department of Psychology and Human Development as an associate professor.
Wu and his wife have only been in Nashville for a few months, "so it will be a little while before we are settled in," he said. But don't expect the couple to spend much time watching sports at Nissan Stadium or Bridgestone Arena. "We have a shared interest in classical music," he said, citing Richard Wagner's Tannhäuser as a favorite.
"When living in Boston, we enjoyed trips to New York City to visit friends there and to go to the Metropolitan Opera," he said. "Also we attended many live streaming and encore performances of the Met at local movie theaters."
Despite their passion for opera, Wu said they won't be flying off to New York any time soon. They are focused on their newborn daughter, Vera.
"She is the priority right now," he said. "She has all of our attention, and we wouldn't have it any other way."