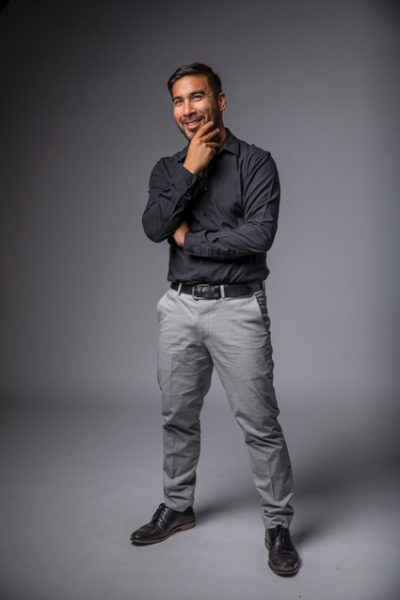 An archive of early 20th-century American postcards of the Philippines with images of men smoking cigars and playing musical instruments and of hangings as mechanisms of breath control is among the current research projects of artist and musician Alejandro T. Acierto, who is the Andrew W. Mellon Assistant Professor of Digital Art and New Media.
"I grew up playing the clarinet, so I've had a longstanding interest in breath control," said Acierto, who traces some of his ancestry to the Philippines. For Acierto, the postcards sent by U.S. colonial officers were part of a broad strategy to legitimize American imperialism. "These postcards were mass-produced during a time of heavy U.S. military presence in the Philippines."
In his work, he has been re-photographing the postcards and "erasing" the subjects to highlight the racial and imperial gaze of the images. "This helps focus our attention on the conditions under which the subject was photographed," Acierto said.
Acierto grew up in Chicago, receiving a bachelor of music in composition and clarinet performance from DePaul University before earning a master of music in contemporary performance at Manhattan School of Music. He spent two years freelancing in New York while performing in multiple chamber music ensembles specializing in 21st-century music. "I was moving my work toward art, exploring ideas for sound-based installations, and on a whim enrolled in graduate school at the University of Illinois at Chicago." Acierto earned a master of fine arts in new media arts in 2016.
His most recent position was at Michigan State University, where Acierto was artist-in-residence for critical race studies. Now he has a joint appointment in the Department of Art and the Cinema and Media Arts Program. Currently, he is teaching "Bodies of Sound," a sound production class taught through the lens of sound art, and "Digital Imaging," a class focusing on the image in the age of the internet.
Next spring he'll teach "Embodied Media," in which students interact with video and sound in real time. He hopes to collaborate with Blair School of Music faculty as they look for ways to complement each other's curriculum. "One idea would be to pair my students with musicians to create visual pieces that happen simultaneously with live performances," he said. He's also developing a drone class—possibly in partnership with environmental studies or public policy faculty—for the next academic year.