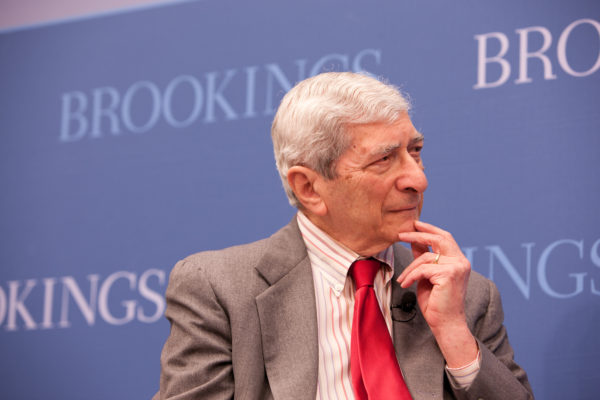 First Amendment Center President Ken Paulson will discuss with journalist Marvin Kalb the impact of President Trump's attacks on the press—the focus of Kalb's new book—Monday, Nov. 12, at the John Seigenthaler Center.
The free event, which includes a reception, will be from 6 to 8 p.m. It's the final installment of the two-year Seigenthaler Series on campus.
Kalb's just-published book is titled Enemy of the People: Trump's War on the Press, the New McCarthyism and the Threat to American Democracy. The veteran journalist is the Edward R. Murrow Professor Emeritus at Harvard's Kennedy School of Government and senior fellow with the Foreign Policy program at the Brookings Institution.
His 30-year journalism career included reporting for both CBS News and NBC News, where he served as chief diplomatic correspondent, Moscow bureau chief and anchor of NBC's "Meet the Press." He was the founding director of the Shorenstein Center on Media, Politics, and Public Policy at the Kennedy School.
In the book's preface, Kalb explains why he decided to write on Trump's war with the press at this stage of his life. "Did I want to be distracted by Trump's war on the press," he asked. He concluded the answer was yes. "If Trump wanted to fight for his vision of America, then I had no option but to fight for mine…"
Kalb noted that he spent extensive time covering the Soviet Union during his journalism career. "I did not like that arbitrary style of governance then, and I don't like it now," Kalb said. "What I have learned over the years – and many have accumulated – is that only a free press can truly protect us from authoritarian government. Only a free press can insure a continuation of a vibrant democracy. The two are inseparable."
The Seigenthaler Series, co-sponsored by Vanderbilt University, honors the First Amendment Center's late founder, John Seigenthaler. The talks are designed to explore emerging issues involving the media and the nation's most fundamental freedoms.
In addition to Vanderbilt, the co-sponsors are the First Amendment Center, John Seigenthaler Chair of Excellence in First Amendment Studies at MTSU, Overby Center for Southern Journalism and Politics at the University of Mississippi, The Tennessean, Vanderbilt Student Media, WNPT, and the Society of Professional Journalists.
For event-planning purposes, please RSVP to Jeannie Paul (jeannie.paul@mtsu.edu).