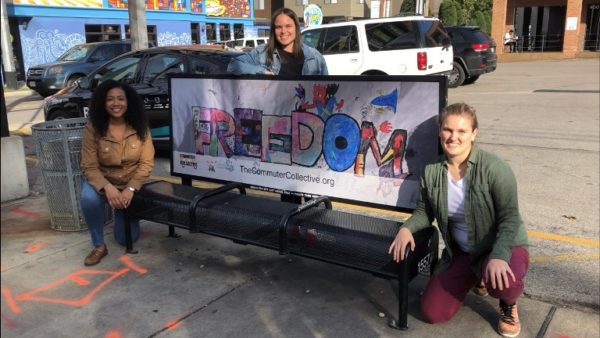 Nashville bus riders can view and be inspired by children's art—thanks to three Vanderbilt Divinity School students and a grant from the Public Theology and Racial Justice Collaborative.
The Commuter Collective project is the brainchild of students Khortlan Becton, Lisa Freeman and Abbey Labreque, who worked in partnership with one of the Nashville Children's Defense Fund Freedom Schools to create public art space on WeGo Public Transit buses.
The Divinity students began thinking about using local art as a form of public theology while enrolled in the class "Creativity: A Theological Engagement," taught by Dave Perkins, associate director of Religion in the Arts and Contemporary Culture.
"We had noticed a lack of children's art in public spaces around Nashville, and wanted to lift up those young voices who tend to be marginalized in our society," said Becton, who is a second-year student in the master of theological studies program. "We were excited to work with the Freedom Schools, which provide culturally-sensitive enrichment and leadership programs for low-income children of color."
One of the goals of the Commuter Collective has been to encourage the art "makers" and the audience—in this case, the bus riders—to engage questions related to social justice. The children created the art this past summer at the Watson Grove Freedom School in the Edgehill neighborhood.
The project came to fruition when the students were able to purchase ad space—thanks to the Public Theology and Racial Justice grant—for art pieces displayed on the outside of three WeGo buses and several bus benches, as well as on cards displayed on the interior of 50 buses.
"Sides of two city buses have the word 'Freedom' written in big letters that are filled in with eye-catching water colors," said Labreque, a second-year student in the master of divinity program. "On the back of another bus is an art piece that came together from the children's freestyle doodles. It was just too beautiful not to include it."
The art cards display some of the children's sketches as well as part of the lyrics of a rap song written by some of the older children at the Nashville Freedom School who enjoyed creative workshops with local musicians.
"To me, the children's art work is a symbol of the immense creative talent found in our Nashville community and the promise of the young people we are working with," said Freeman, who is a second-year student in the master of theological studies program. 'I hope it can brighten someone's day and provide a space where  people riding the bus can enjoy art—instead of advertisement."
A celebration of the Commuter Collective for the participating families and supporters will take place at the Watson Grove Baptist Church Saturday, Nov. 10, from 2 to 4 p.m.