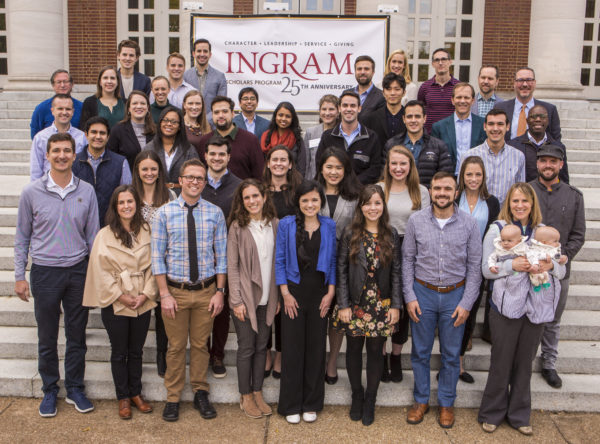 Alumni of the Ingram Scholars Program opened a weekend celebrating the 25th anniversary of the program in an apt location: the Great Room of Vanderbilt's newly opened E. Bronson Ingram College, a building named after the founding benefactor of the scholarship. The evening reception on Nov. 2 was the first in a series of events to reflect on the history and discuss the future of the Ingram Scholars Program, which covers full tuition for undergraduate students who have demonstrated a commitment to community and public service.
"E. Bronson Ingram invested in each and every one of you," Chancellor Nicholas S. Zeppos told alumni and current scholars at a dinner on Saturday. "He decided that the best way to get people to serve was to bring them to college to develop the sense of 'I am going to go out in the world, and I am going to give back.' And his gift has shaped Vanderbilt in multiple ways."
More than 90 alumni and current students from the scholarship program attended sessions throughout the weekend to network, share their professional and service experiences, and gather updates on the university and the Ingram Scholars.
"I am profoundly grateful to the Ingram family because, through this initiative, I found my destiny," said Jamaal Nelson, BA'99, an Ingram Scholar alumnus and former Vanderbilt Student Government president. "My dream is to help other people's dreams come true, and this manifests itself in deeply understanding the privilege that I enjoyed as a student by benefitting from the gift and commitment of the Ingram family. I now work to ensure that many others have access to a similar privilege, primarily through educational access."
The Ingram Scholars Program was founded in 1993 by then-Chairman of the Board of Trust E. Bronson Ingram, who sought to create a program that would provide students with opportunities to use their skills and education to contribute to solutions for problems facing society. Since Ingram's passing in 1995, his wife, Martha Rivers Ingram, and two of his sons, John and Orrin, have been heavily involved in the program's ongoing development. John and Orrin both attended the 25th reunion and spoke about their father's vision for the scholarship.
"My father would be so proud to see what the program has done in 25 years, and it is only getting better," said Orrin Ingram, BA'82. "He wanted to help young people who were really smart and cared about the community. He wanted to help them get a great education so they could go out and be successful and help other people, and maybe replicate a similar program like this one in communities where they live or where they have interests."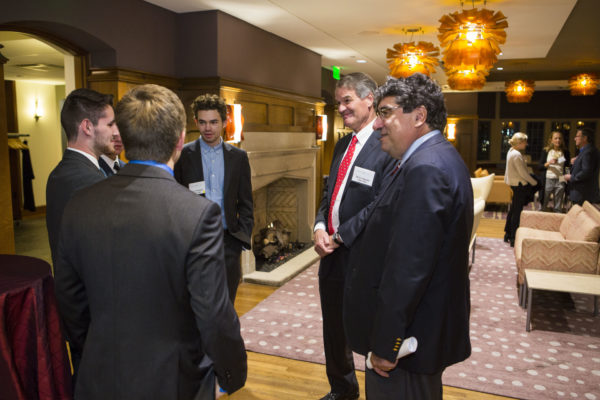 Along with full-tuition support, each Ingram Scholar receives a stipend for a summer service project, and students in the program commit to 20 hours of service each month. Nearly 250 alumni of the program live around the world and are pursuing careers in business, medicine, law, finance, social entrepreneurship, nonprofits, education, public policy and more.
"This scholarship is different from most others," said Lisa Koenig Ladd, BA'14, a member of the Ingram Scholarship Program Alumni Board. "It is an opportunity for things that you will do. The Ingram Scholars pushed me to become who I am, and I look forward to scholars continuing to push each other to become their best selves in the world."
During the reunion weekend, Ingram Scholars Program Faculty Director Brian Heuser, associate professor of the practice of international education policy in the Department of Leadership, Policy and Organizations, outlined changes being made to the program to align the scholarship program with new initiatives at the university, including Opportunity Vanderbilt and Immersion Vanderbilt.
"We recognize the fact that our students are not just in classes, but that there are many hours of the week when they are engaged in other activities," said Provost and Vice Chancellor for Academic Affairs Susan R. Wente when meeting with alumni during the Ingram Scholars reunion. "We are looking for a cohesive way for them to pursue their passions, as you were able to do as Ingram Scholars. We want to find ways to extend that part of the experience to all Vanderbilt students."
The Ingram Scholars summer service project will now qualify for Immersion Vanderbilt. To support the alignment with Immersion Vanderbilt, future summer projects will include an additional academic component. The Ingram Scholars Advisers faculty mentorship program is also being redeveloped to support the added academic component. Additionally, the admissions process for Ingram Scholars will now be limited to incoming first-year students and rising sophomores, and it will emphasize interactions between applicants and the selection committee.
The Ingram Scholars Program also recently implemented a new philanthropic model in which scholars are given a stipend to donate to a nonprofit of their choice. Students are required to do research and develop a logic model to demonstrate why their stipends are going toward a particular cause and organization.
To chart the future of the Ingram Scholars Program, Heuser said he turned to the original prospectus for the program, drafted by E. Bronson Ingram and Joe B. Wyatt, Vanderbilt chancellor at the time of the program's founding. He also surveyed alumni and worked closely with the Ingram family when considering changes to be made to the program.
"I'm grateful every time you tell me there is something you want to build into the program, or there's something you think we could be doing better," Heuser told the gathered alumni and current students on Saturday. "We want this to be the best program of its kind in the world. In every conversation I have with the Ingram family, that's the idea: We constantly want to work toward being the best we can."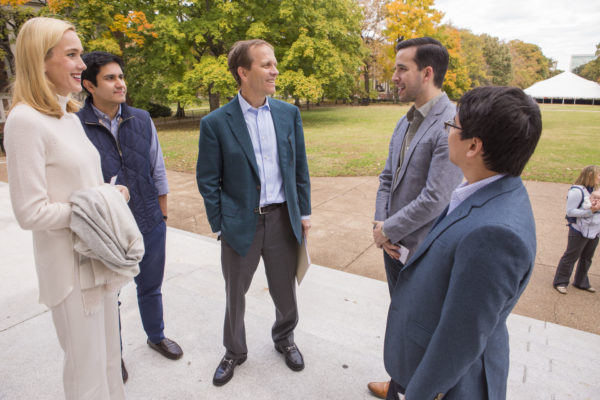 The two-day reunion event included an update on the university's Academic Strategic Plan by Wente and highlights of Vanderbilt's FutureVU land use plan by Vice Chancellor of Administration Eric Kopstain. During breakout sessions on Saturday, alumni met with students currently in the program to discuss how their experiences as Ingram Scholars informed their careers and service to their communities.
"My father's vision for this scholarship was that it wasn't just about doing community service," said John Ingram, MBA'86. "To see scholars grow, move into important positions and see the impact they can have, that's the payback to our family for this program."