Help influence Nashville's future: Take the Nashville Community Health + Well-being Survey
Nov. 7, 2018, 12:41 AM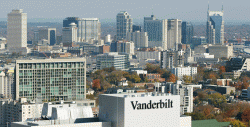 Are you a resident of Davidson County? If yes, you may have received the Nashville Community Health + Well-Being Survey in your mailbox. If you did receive it, please take it! Your answers will help nonprofits, businesses, government organizations and others better understand and serve the needs of our community.
The information also will be useful to Vanderbilt University Medical Center, one of the survey's sponsors, as it will inform VUMC's community health improvement efforts related to its Community Health Needs Assessment and Implementation Strategy.
The survey is currently being mailed to more than 12,000 randomly selected households in Davidson County. If you receive one, you can elect to take the survey online or return a hard copy by mail. You may not receive a survey, but if you do, it's critically important that you take it.
The survey is the first county-wide health survey of its kind to take pace in Nashville in nearly 20 years and will help provide an accurate picture of the health of our city. It will also play an important role in furthering our understanding of priorities regarding the health of Nashville's population.
The Nashville Community Health + Well-being Survey is directed by the Metro Public Health Department of Davidson County and NashvilleHealth, a nonprofit dedicated to making Nashville one of the healthiest places to live.
You can learn more about the survey methodology and how the data will be used by visiting www.healthynashville.org.