Media Inquiries
Latest Stories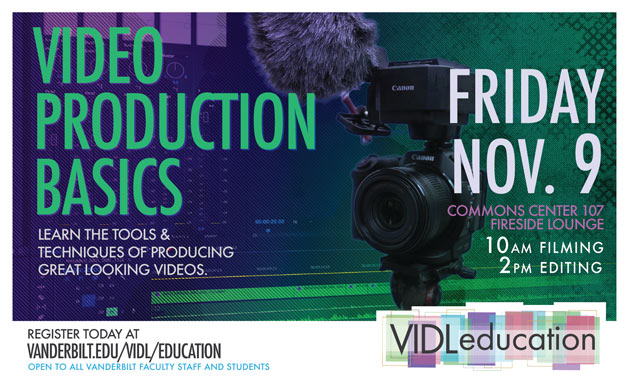 Vanderbilt faculty, staff and students are invited to participate in a Video Production Basics workshop offered by the Vanderbilt Institute for Digital Learning on Friday, Nov. 9.
Join VIDL's videographers in a specialized training designed to help beginners learn the tools and techniques of high-quality video production.
This two-part workshop begins in the morning with setting up and recording a live interview. The interview subject will be Vanderbilt's Jonathan Rattner, assistant professor of cinema and media arts. In the afternoon, participants will learn to edit the interview footage using Adobe Premiere Pro.
All of the production equipment used in the workshop will be available for VIDL Studio members to borrow through the Gear2Go system. To become a VIDL Studio member, sign up for online training on the VIDL website.
Those attending the editing session may bring a laptop to follow along in the software (optional). For access to Adobe Premiere Pro, download a seven-day free trial. The Adobe Creative Suite is also available to VIDL Studio members.
Participants may attend one or both sessions. Please note you will need to sign up for each session separately if you plan to attend both.
Friday, Nov. 9
Session 1 – Filming: 10 a.m.–noon
Session 2 – Editing: 2–4 p.m.
Location
The Commons Center, Room 107 (Fireside Lounge)
Contact: Gayathri Narasimham
gayathri.narasimham@vanderbilt.edu