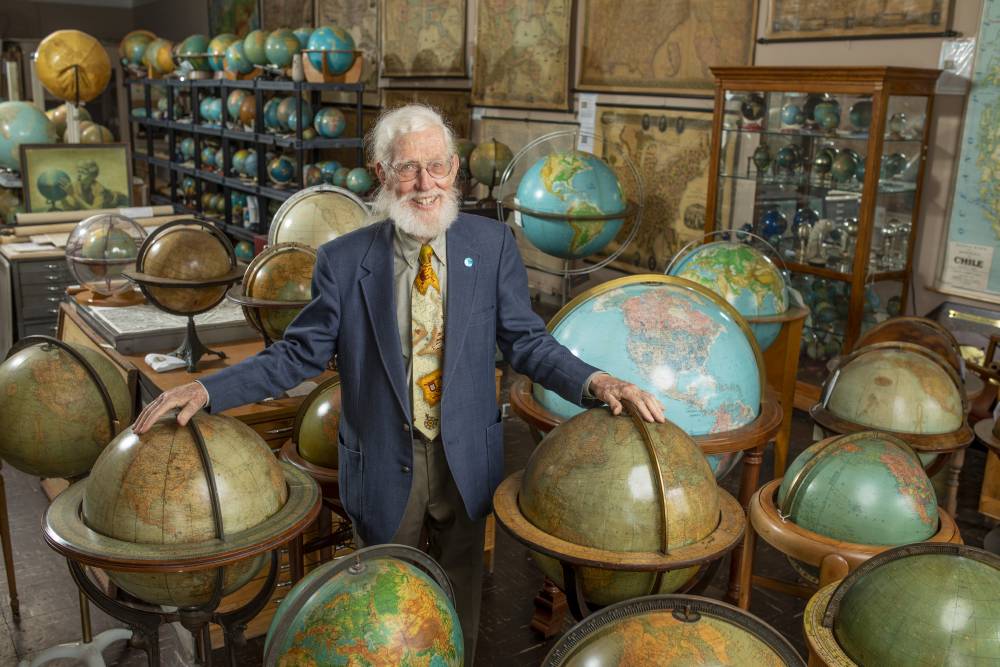 Murray Hudson, PhD'69, spent the summer of 1964 studying the art and history of England at Oxford University. While there, he passed an antique shop every day and admired prints of castles and cathedrals in the window. He finally went inside near the end of term to purchase some of the prints he'd seen. "But when I went in the shop, I forgot all about the prints," he recalls, "because the maps were so interesting." He purchased 52 in total, spending nearly all of his money.
Hudson kept those maps during careers as an academic, stockbroker and farmer. In the 1970s he tracked down some catalogs and discovered that the maps he purchased in England 15 years earlier were worth 10 times what he'd paid for them. "I was a broker losing money in a down market, yet here was something that was a good investment if you knew what you were doing," he says.
Today, Hudson's Antique Maps, Globes, Books and Prints occupies 8,000 square feet of retail space in Halls, Tennessee. He has donated or brokered maps now owned by the Library of Congress, the University of Texas at Arlington, and Vanderbilt's Jean and Alexander Heard Libraries, including many of the maps in the Robert A. McGaw Tennessee Map Collection, a rare collection dating from 1760.
On Nov. 7, Hudson and other professional conservators, appraisers and librarians will participate in the Antiquarian Book and Manuscript Roadshow at the Central Library, hosted by the Friends of Vanderbilt's Libraries.
Here are his tips on collecting, caring for and donating historical printed material:
1. Locate your passion.
Start collecting something you're personally interested in. For map enthusiasts, that may be favorite places visited or associated with family origins. "If you really enjoy it, it becomes a passion," he says, "which is how most people get into collecting. But start on the lower end and know the people you are dealing with."
2. Orient yourself.
It's important to understand the difference between first or subsequent editions of books or maps, an original or a restrike—a map reprinted from the original plate. Originals are usually more valuable, though condition enters into the valuation. If unsure, take it to a dealer, says Hudson. "It's very hard to tell, for instance, whether a map is a first edition." It often requires an expert who will know where to look for dates and publishers, and who can evaluate the condition of the item itself. "I am very cautious," Hudson says. "Some look really good from the front, but then you find it may have a border that is a different color from the rest of the print as a result of acid in the matte or light damage, or see that it's been trimmed, all of which can hurt its value."
3. Look for familiar signs.
Whether buying or selling, focus on dealers who belong to national societies like the National Antique and Art Dealers Association of America, the Antiquarian Booksellers' Association of America or map societies, such as the International Map Collectors' Society or a local map society, suggests Hudson. "If the dealer is a member of one of these societies, it's almost a guarantee they are legitimate," he says. "Nearly every state or region has a map collecting society, and there are many dealers who specialize in maps from Texas, California, the Northeast, the Midwest and the South."
4. Beware the elements.
Insects and the environment can harm antiques, especially ones made of paper. "The most likely and worst thing is when paper gets wet," Hudson says. If not properly dealt with immediately, waterlogged items can warp or mildew, which causes lasting damage. All light can cause items to fade, but direct sunlight and fluorescent light are the worst offenders. For that reason, Hudson recommends purchasing glass with UV protection whenever framing something of value. Also, make sure it's matted with acid-free matte board and backing materials.
5. Ask for directions.
Sometimes a collection might have more value outside a person's home, whether for tax reasons or other circumstances. If this is the case, Hudson suggests loaning it to a library or museum. "For example, if you have a map collection or library inspired by your grandfather's love of Texas history, check the libraries that specialize in that," he says. Before you take any action, properly insure your items, prepare a formal loan agreement, and research the potential financial ramifications. If you're comfortable parting with a collection permanently, Hudson says, you can put it up for auction with a reputable firm such as Heritage Auctions or Case Auctions in Knoxville for Southern material.
---
TEXT BY ELIZABETH COOK JENKINS, BS'99
---