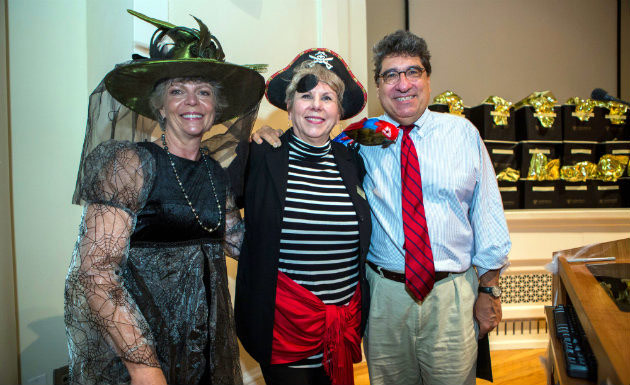 Janet Roberts, facilities manager for Peabody College, and Sandra Bell, human resources technician for Army ROTC, are the latest recipients of the Chancellor's Heart and Soul Staff Appreciation Award.
Chancellor Nicholas S. Zeppos surprised Roberts during an Oct. 31 Peabody staff appreciation brunch in the Wyatt Center Atrium, while Bell was honored the next day with nearly three dozen Army cadets attending the ceremony at ROTC headquarters. Each honoree received a $1,500 cash prize and a pen in a box carved from the wood of historic Alumni Hall.
Staff are nominated for the Chancellor's Heart and Soul Award by their supervisors, managers and colleagues. Nominations focus on a specific instance when a staff member did more than what was assigned or expected and for carrying the spirit and mission of Vanderbilt in all they do.
Roberts, who has worked at Vanderbilt for 17 years, was nominated by Camilla Benbow, Patricia and Rodes Hart Dean of Education and Human Development.
"You exemplify Peabody's mission to enhance the human condition in a tangible, personal way that enriches the lives of our university and everyone you work with," Zeppos told Roberts. "I often talk about a beloved community of support with people who really care about each other; you give me hope, faith and affirmation that it is indeed possible at Vanderbilt."
Roberts expressed deep gratitude to the chancellor and her colleagues for the recognition. "I love Peabody, and was just thinking this morning while walking across our campus how fortunate I am to work at this beautiful place," she said.
Benbow described Roberts on her nomination form as a "tireless worker, generous colleague, and resourceful teammate." She noted that Roberts' position has become especially hectic with the first phase of a multibuilding construction and renovation project on the Peabody campus. "I consider Janet Roberts the very soul of grace under pressure," Benbow wrote.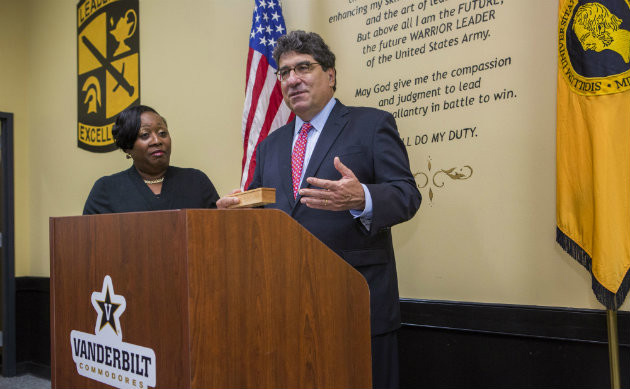 During the ceremony for Bell, Zeppos praised the honoree for her care and concern for all Army ROTC students. "I'm told that all of the cadets start and finish their time with her," he said. "She is a team player, and she understands we are so much better when we all work harder together."
Bell, who has 33 years of government service, including 11 at Vanderbilt, thanked everyone for their support. She was nominated by Eric Westphal, professor of military science.
Zeppos created the Chancellor's Heart and Soul Award out of a desire to find new and creative ways to show staff that their efforts are valued and appreciated. The award, first given in 2017-18, is presented by the chancellor during visits with staff in their workplaces or in group settings.