Vigil Oct. 29 in remembrance of Tree of Life Synagogue victims
Oct. 29, 2018, 8:38 AM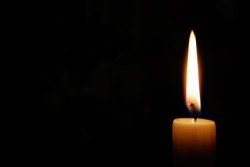 All members of the Vanderbilt community are invited to a vigil today, Oct. 29, at 3:30 p.m. in remembrance of those who died, those who remain in jeopardy, and those who are recovering from their injuries after the shooting at the Tree of Life Synagogue in Pittsburgh. The vigil will take place on the lawn adjacent to Rand Wall (between Rand Hall and Buttrick Hall, near the banners that hang behind Rand Wall).
"Our deepest sympathies go out to the loved ones of all those who were hurt or lost their lives during the attack at the Tree of Life Synagogue in Pittsburgh. Our thoughts are with the entire Jewish community. We condemn this horrific act of anti-Semitism, violence and hate in the strongest terms," Chancellor Nicholas S. Zeppos said. "This senseless tragedy should remind us all to nurture and embrace the diversity, openness and kindness in our own community. We must be ever more committed to standing against bigotry, prejudice and hatred and to strengthening the ties between us all."
The program will include remarks by Provost and Vice Chancellor for Academic Affairs Susan R. Wente and remarks, readings and prayers by various faith leaders and chaplains on campus. Staff from the Office of the University Chaplain and Religious Life and from the University Counseling Center will be available for counseling or conversation of any kind.
A citywide service will take place at The Temple (5015 Harding Pike) at 6 p.m. A shuttle is available from campus for any students who wish to attend. The shuttle will depart from the Branscomb Quad circle at 5 p.m.