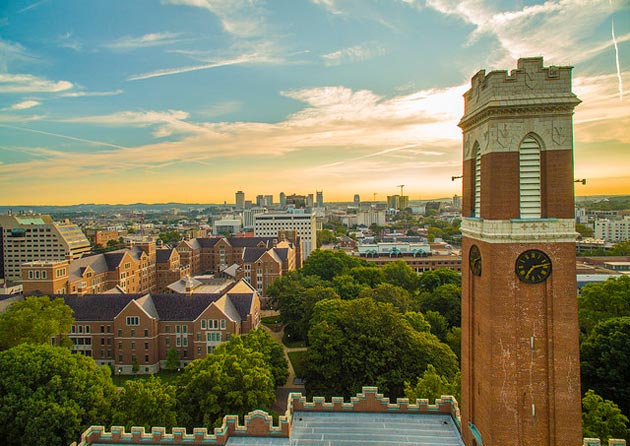 Vanderbilt University is inviting its alumni and donors to play a key role in expanding support for faculty throughout their careers with the launch of the Faculty Fellowship Challenge. Backed by an institutional investment of $25 million, the challenge is designed to create fellowships and directorships that will spark new research discoveries and expand teaching opportunities.
"Our faculty, at all points in their careers, are essential to the success of our university. This Faculty Fellowship Challenge will help us recruit and retain outstanding teachers and scholars who will become the next 'legendary' members of our faculty," said Vanderbilt Chancellor Nicholas S. Zeppos. "To those donors who've already joined us in supporting them, I'm sincerely grateful."
Through the challenge, Vanderbilt will invest $500,000 to match every eligible donor gift of $500,000 or more toward the endowment of one of the following: a Chancellor Faculty Fellowship, Dean's Faculty Fellowship or Directorship. Chancellor Faculty Fellowships support recently tenured faculty, while Dean's Faculty Fellowships support tenure-track professors. Directorships, meanwhile, recognize administrative leaders, including non-tenure track faculty.
Institutional investments in faculty are an ongoing priority for Vanderbilt. The recent yearlong Chancellor's Chair Challenge, which established 20 new endowed chairs, supports faculty members at the pinnacle of their academic careers. The new Faculty Fellowship Challenge, which runs from Sept. 1, 2018, through Sept. 30, 2020, builds upon that momentum by putting significant focus on early and midcareer faculty members.
"Investing early in these rising stars helps them take their careers to the next level," said Provost and Vice Chancellor for Academic Affairs Susan R. Wente. "Thanks to Faculty Fellowships, they're able to win additional external funding, publish new findings from their research, and eventually move into leadership positions at the university and within their fields. These fellowships ensure that they stay on that trajectory."
Among the first donors to respond to the challenge are Elizabeth Sauereisen Allen, BS'83, and Vanderbilt Board of Trust member Greg Allen, BA'84, whose four children include recent graduate Erik Allen, BA'15. With their commitment, the Allens have established the Greg S. Allen Chancellor's Faculty Fellow in Philosophy, the Greg S. Allen Dean's Faculty Fellow in Philosophy, and the Sauereisen Director of the Undergraduate Business Minor Program.
"The faculty interaction with undergraduates at Vanderbilt left a mark on both of us," said Greg, who has been a member of the Vanderbilt Board of Trust since 2016. "Access to great faculty was also true of our son's experience more than 30 years later."
The Allens named the Sauereisen Directorship after the business that Elizabeth's family has operated in Pittsburgh for three generations. The business was started by her grandfather in 1899, later run by her father, and is currently under the management of her brother and sister.
"The legacy of what my grandfather accomplished has always been an inspiration to me," said Elizabeth. "Greg and I would like to have a similar impact on future generations at Vanderbilt. We want to help ensure that great faculty and strong leaders are supported and that students for years to come will benefit from these inspiring scholars and thinkers."
Early investments in Vanderbilt's midcareer faculty have shown to be a successful strategy in helping launch their academic careers. For example, thanks in part to her Littlejohn Dean's Faculty Fellowship, Assistant Professor of Civil and Environmental Engineering Hiba Baroud has been able to conduct groundbreaking research that improves infrastructure systems' reliability and recovery from disasters like hurricanes and floods. Likewise, Associate Professor of Anthropology Steven Wernke, who benefited from a 2016–18 Chancellor Faculty Fellowship, recently received a $150,000 digital extension grant from the American Council of Learned Societies to develop a geospatial platform for better understanding Andean culture, history and archaeology in South America.
For more information about the Faculty Fellowship Challenge, contact Scott Self at scott.self@vanderbilt.edu or 615-322-6200.