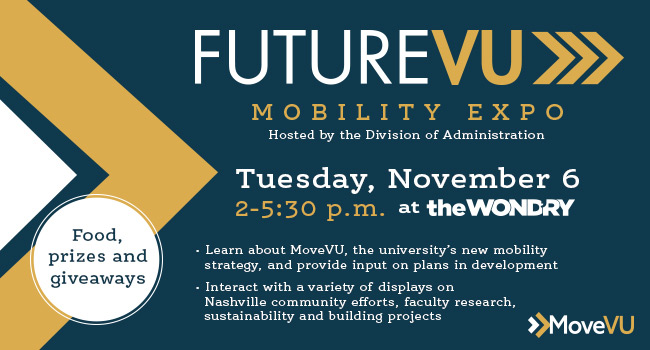 Students, faculty and staff will have an opportunity to explore Vanderbilt's mobility and transportation progress and plans at the FutureVU Mobility Expo on Tuesday, Nov. 6. The event is scheduled from 2 to 5:30 p.m. at the Wond'ry.
All in the Vanderbilt community are invited to attend and learn more about MoveVU, the university's new mobility strategy in development, as well as provide input on concepts for future improvements.
Vanderbilt Chancellor Nicholas S. Zeppos and Tennessee Department of Transportation Commissioner John Schroer will kick off the expo with remarks scheduled for 2 p.m.
Other things to do at the FutureVU Mobility Expo include:
Check out one of the new Nashville WeGo buses
Attend a bike and scooter safe-riding course sponsored by Vanderbilt University Public Safety
Learn more about FutureVU and current building projects on campus
Learn about sustainability and how it relates to mobility
View displays about transportation research being conducted by Vanderbilt faculty
Enjoy free food, prizes and giveaways
In addition, Michael Skipper, executive director of the Greater Nashville Regional Council, will deliver a lecture from 3:10 to 4 p.m. on Nov. 6. "Middle Tennessee: The Future of Mobility in a Changing Region" will take place in Jacobs Believed In Me Auditorium (Featheringill Hall, Room 134). The talk is sponsored by the Department of Civil and Environmental Engineering.
The Mobility Expo is hosted by the Division of Administration. For more information about sustainability initiatives at Vanderbilt, visit the SustainVU website. To learn more about Vanderbilt's land use planning initiative, visit FutureVU.