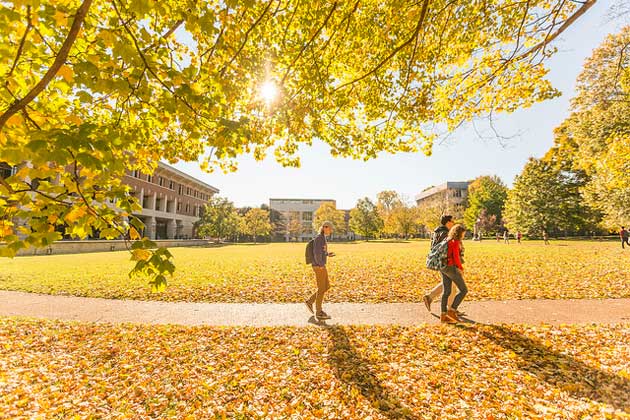 Vanderbilt University has been named one of the most environmentally responsible colleges by The Princeton Review.
Vanderbilt is No. 21 among the "Top 50 Green Colleges" for 2018. Schools on the list share "superb sustainability practices, a strong foundation in sustainability education, and a healthy quality of life for students on campus," according to The Princeton Review
"Through FutureVU, Vanderbilt is designing and preparing its campus at every level to support students, faculty and staff and to uphold the university's mission and values," Vice Chancellor for Administration Eric Kopstain said. "This ranking is a testament to these efforts and to Vanderbilt's steadfast commitment to sustainability and environmental stewardship."
The Princeton Review determines its rankings based on a combination of school-reported data and student opinion collected through surveys.
The Princeton Review awarded Vanderbilt a 98/99 Green Rating based on institutional data gathered from university administrators. The survey questions included whether students have a quality of life on campus that is both healthy and sustainable; how well Vanderbilt is preparing students for employment in an increasingly green economy; and how environmentally responsible the university's policies are. Learn more about the Green Rating methodology.
The student survey reflected Vanderbilt students' responses regarding how sustainability issues influenced their education and life on campus; administrative and student support for environmental awareness and conservation efforts; and the visibility and impact of student environmental groups. Learn more about the student survey.
"Vanderbilt's environmental commitment calls for developing and transferring knowledge, increasing awareness and promoting lifelong learning about sustainability best practices for the benefit of students and others in the university community," said Andrea George, director of the Sustainability and Environmental Management Office. "Vanderbilt students' responses to the survey show this commitment is paying dividends on campus, as well as strong support for the SustainVU mission."
The Princeton Review surveys several hundred institutions annually to compile its "Guide to 399 Green Colleges." Most of the 399 schools in the 2018 edition are in the United States, 13 are in Canada, and one each is in Egypt and Greece.
To see the full results, visit The Princeton Review website.