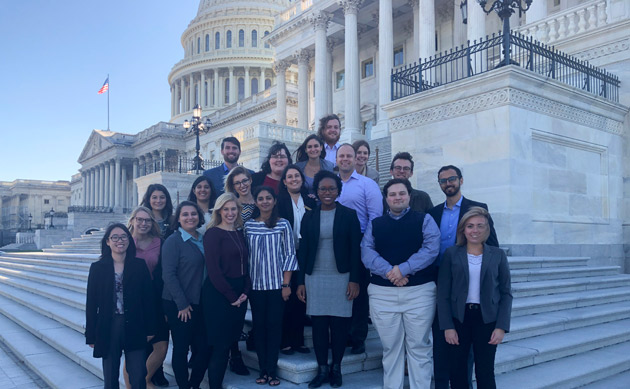 By Collier Roberts
Nineteen Vanderbilt graduate students and postdoctoral scholars spent two days in Washington, D.C., last week participating in the fourth STEM Policy and Advocacy Seminar hosted by Vanderbilt University's and Vanderbilt University Medical Center's Offices of Federal Relations in partnership with the School of Engineering, the Graduate School, the School of Medicine's Biomedical Research Education and Training Office and the Career Center.
"Our federal relations staff did an outstanding job of crafting a program for our scholars to dive deep into the process of federal policymaking and research advocacy," said Christopher Rowe, associate dean for external relations at the School of Engineering, who attended the event for the third time. "The forum opened the scholars' eyes to new career possibilities that will allow them to use their knowledge and skills. It was enjoyable to see them embrace the experience."
Over the course of the seminar, participants were repeatedly urged to tell a compelling story when seeking to advocate for science policy and funding. "In a world where information moves quickly and attentions are short, it is vital to understand the importance of effective storytelling to get your audience's attention—whether it's policymakers, the media or the public," said Christina West, assistant vice chancellor for federal relations. "The consistent theme we heard from our speakers was that it is essential to make what we do personally and locally relevant to those who shape policy."
The seminar agenda featured eight panels with 14 external speakers, including six Vanderbilt alumni, and sought to give participants a broad introduction to science policy by addressing both the history of federal support for science and the current trends in federal funding for science. Attendees also learned about career opportunities in federal science policy, hearing from professionals in the executive branch, legislative branch and advocacy community who primarily focus on science issues. The program is specifically designed to demonstrate how individuals with a scientific background can engage with the government sector, either as a federal employee or as an advocate.
Andrew Hastings, PhD'15, who participated in the seminar as a graduate student, spoke to this year's group about his experience as a current AAAS Science and Technology Policy Fellow at NIH. "The trip is a big reason that I decided to pursue the fellowship," he said. "It gave me a window into what working in science policy means and inspired me to think about how I, as a scientist, could contribute to providing evidence-based advice to help the government make a positive impact in the lives of individuals."
As in prior years, the seminar featured an interactive session in which students participated in a mock congressional conference committee for the spending bill that funds many science-related agencies. They role played the parts of legislators to produce an agreement that set funding levels and policy priorities for the coming year while avoiding a presidential veto.
"The STEM policy program, especially the budget appropriations case study, really increased my appreciation for the complexity of the budget process," said participant Kelsea Best, a second year Ph.D. student in Earth and Environmental Sciences. "It also reinforced to me how important it is to have scientists and advocates clearly articulating the need for STEM funding so that science doesn't get lost in the mix of other important issues that lawmakers care about."