The K.C Potter Center, home of the Office of LGBTQI Life, will mark its 10th anniversary on Oct. 24 with a celebration open to the entire Vanderbilt community. The event will take place from noon to 2 p.m. and will include remarks, fellowship and refreshments.
"We are excited to celebrate 10 years of the K.C. Potter Center. It has served as a community space for so many students, faculty and staff over the years," said LGBTQI Life Director Christopher Purcell. "The center has also served as a catalyst for significant change on campus in regard to equity for people of all genders, sexualities and identities."
The K.C. Potter Center, located on West Side Row, serves as a cultural center, a place of affirmation and support for individuals of all identities, and a resource for information about gender and sexuality. Throughout the month of October, the K.C. Potter Center is celebrating LGBTQI History Month with a series of events, film screenings, lectures and trainings aimed at educating and engaging students, faculty and staff.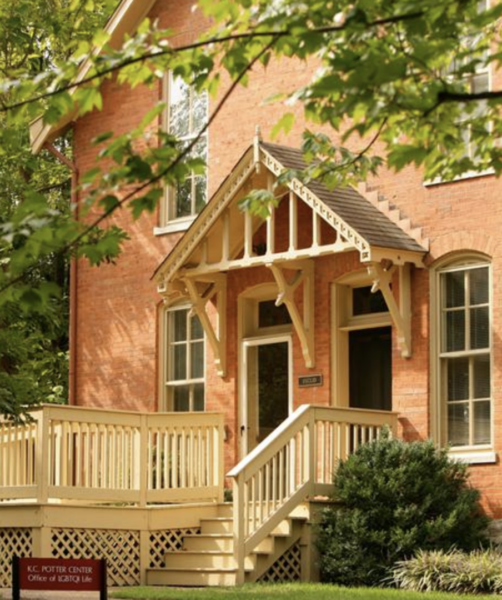 Over its 10-year history, the center has initiated several efforts aimed at fostering awareness and inclusion of lesbian, gay, bisexual, transgender, queer and intersex individuals at Vanderbilt. Some of these efforts include establishing LGBTQI Life affinity groups, advising student organizations and conducting Pursuing Respect, Inclusion, Diversity and Equity (P.R.I.D.E.) trainings that provide opportunities for community members to engage in ongoing education related to gender, sexuality and intersecting identities.
"They gave me room to grow and build myself into the person I am now, to learn my own worth and talent, to learn gentleness and defiance and joy in myself and my communities," said Amery Sanders, BA'14, of the K.C. Potter Center and the Office of LGBTQI Life. "I'm profoundly grateful for my time at Vanderbilt and at the K.C. Potter Center and for the fact that it's blossomed into such an open space for all kinds of young people."
Formerly the Euclid House, the K.C. Potter Center is named after Vanderbilt's long-serving dean of residential and judicial affairs, who retired from the university in 1998. The center was dedicated to Potter in 2008 to recognize his many efforts to create a supportive and inclusive environment for LGBTQI individuals in the Vanderbilt community.
For more information on the K.C. Potter Center's 10th anniversary event, visit LGBTQI Life's website.