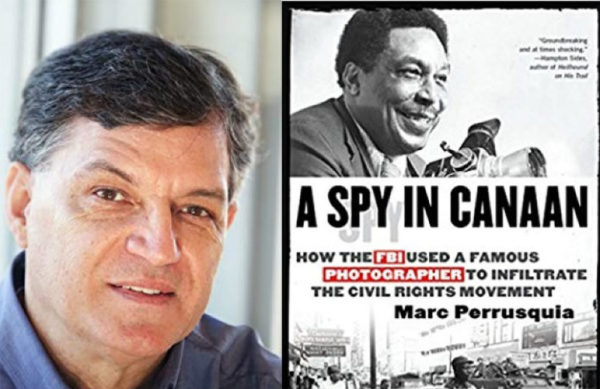 Marc Perrusquia, a journalist and author who investigated the depth of political surveillance in Memphis in the 1960s and 70s, will speak Monday, Oct. 15, on the Vanderbilt campus. "Political surveillance in Memphis, then and now" is the second of three talks that are part of the Seigenthaler Series for fall 2018.
Perrusquia will be joined by Mandy Strickland Floyd, who serves as the ACLU of Tennessee co-counsel on a current case pending against the Memphis Police Department regarding political surveillance.
The event, which includes a book signing and reception, will be from 6 to 8 p.m. at the John Seigenthaler Center.
Perrusquia' s book, A Spy in Canaan: How the FBI Used a Famous Photographer to Infiltrate the Civil Rights Movement, focuses on civil rights-era political surveillance from the perspective of Ernest Withers, a photographer who secretly doubled as an FBI informant.
The author will discuss how he, as a reporter for the Commercial Appeal, exposed Withers' secret, as well as First Amendment abuses concerning the government's collection of wide swaths of personal and political data on law-abiding civil rights activists. Perrusquia now leads the Institute of Public Service Reporting at the University of Memphis.
Meanwhile, Floyd will speak on a current case in which the ACLU of Tennessee is suing the Memphis Police Department for its surveillance of Black Lives Matter activists and others. The surveillance allegedly violates a 1978 court order secured by ACLU-TN that protects against police surveillance of protected First Amendment activities.
The Seigenthaler Series, co-sponsored by Vanderbilt University, honors the First Amendment Center's late founder, John Seigenthaler. The talks are designed to explore emerging issues involving the media and the nation's most fundamental freedoms.
The third and final talk for the series will be on Nov. 12 with Marvin Kalb, author of Enemy of the People.
In addition to Vanderbilt, the co-sponsors are the First Amendment Center, John Seigenthaler Chair of Excellence in First Amendment Studies at MTSU, Overby Center for Southern Journalism and Politics at the University of Mississippi, The Tennessean, Vanderbilt Student Media, WNPT, and Society of Professional Journalists.
The discussion and reception are free and open to the public. For event-planning purposes, please email deborah.fisher@mtsu.edu.