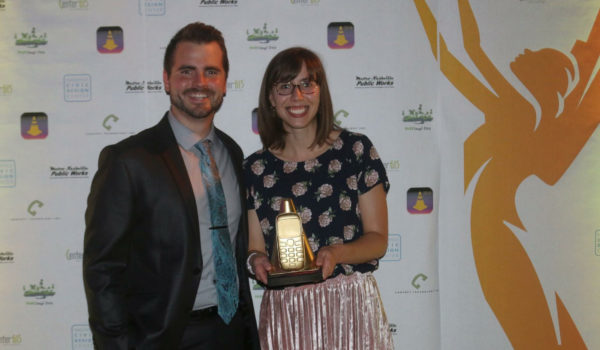 Vanderbilt University was recognized by the Nashville Civic Design Center for its participation in PARK(ing) Day 2018. The university won the "Best Use of Space" award and "Golden Phone" award for the most text-in votes by visitors.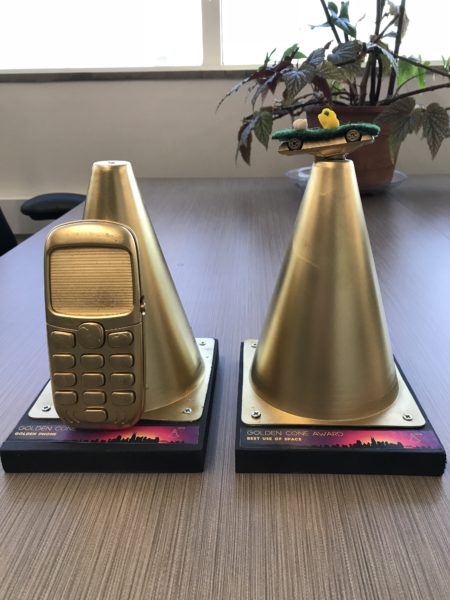 Hosted by the Division of Administration and supported by the Nashville Civic Design Center, Vanderbilt's contribution to PARK(ing) Day featured 18 parking spaces located at the corner of Broadway and 20th Avenue that were transformed into a temporary park highlighting sustainable features and materials for the community to enjoy.
"I am so proud of this team," said Eric Kopstain, vice chancellor for administration. "Their creativity and hard work paid off and really showcased what Vanderbilt is capable of. I can't wait to see what they come up with next year."
The team of Division of Administration staff and Vanderbilt students, led by program coordinator Ashley Majewski, began their planning this summer and used their respective areas of expertise to create and implement innovative ideas and site plans for the pop-up "parklet."
Emphasizing aspects of FutureVU and its guiding principles, the park included local and sustainable features such as a solar panel demonstration, an umbrella installation using bamboo from campus, a succulent garden and a water feature using captured storm water.
The design and planning team included:
Laura Barker – Plant Operations
Zac Dupwe – Vanderbilt University Real Estate
Andrea George – Sustainability and Environmental Management Office
Jason Hall – Parking Services
Chelsea Hamilton – Sustainability and Environmental Management Office
Alejah Love – Undergraduate student
Ashley Majewski – Office of the Vice Chancellor of Administration
Paul Marshall – Campus Planning
Danny McKissack – Plant Operations
Mike Meadows – Plant Operations
Maryam Muhammad – Undergraduate student
Leshuan Oliver – Public Safety
Kara Parker – Professional fellow
Mark Petty – Plant Operations
Ryan Storey – Plant Operations
Corwin Thomas – Public Safety
Jimmy Thompson – Plant Operations
Alex Valnoski – Division of Communications
Robert Waits – Campus Planning
Maren Wilder – Undergraduate student
Lindsay Williams – Undergraduate student
Paul Young – Plant Operations
Additional staff, students and campus partners, including the Plant Operations Move Crew, Vanderbilt Catering and the Vanderbilt Recreation and Wellness Center and Nashville vendor Las Paletas, helped make the event a success. Vanderbilt's participation in PARK(ing) Day is part of its pop-up event series held on campus to activate outdoor spaces.