Award-winning writer Gabby Rivera visited the Vanderbilt campus Sept. 24-25 to speak with staff, students and faculty about the importance of empowering people with diverse voices to tell their stories. Rivera is the author of the novel Juliet Takes a Breath and the writer of the Marvel Comics series America, which features the character America Chavez, the first queer, Latinx teen girl superhero.
"We are honored that Gabby Rivera visited the Vanderbilt community last week. Her message of radical creativity, inclusivity and joy resonated with myself and so many others," James Page Jr., vice chancellor for equity, diversity and inclusion and chief diversity officer, said. "I hope the staff, students and faculty who attended this program left feeling empowered and inspired as we continue to push forward in making Vanderbilt an inclusive community where each individual is treated with dignity and respect."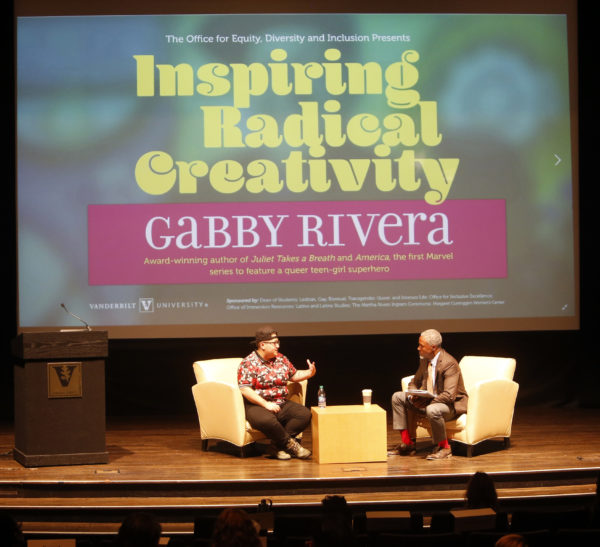 Rivera's visit included a keynote address and Q&A, a meet-and-greet breakfast program and a writer's workshop. Throughout her talks, Rivera's message centered on the power of creativity and the importance of cultivating joy in all areas of life, including writing.
"Put all the goofiest and joyful parts of yourself and your experiences into your work. In them, you will find the compassion, love and all the heart you need to keep going. The story deserves it. You do, too," Rivera said. "If we don't do this work with intention, if we just continue pushing stuff that is void of our joy and of our legacy and of our history, then we are not moving forward in justice."
Rivera's visit was presented by the Office for Equity, Diversity and Inclusion in collaboration with other campus partners.
Learn more:
5 Questions with Marvel Comics Writer Gabby Rivera