Media Inquiries
Latest Stories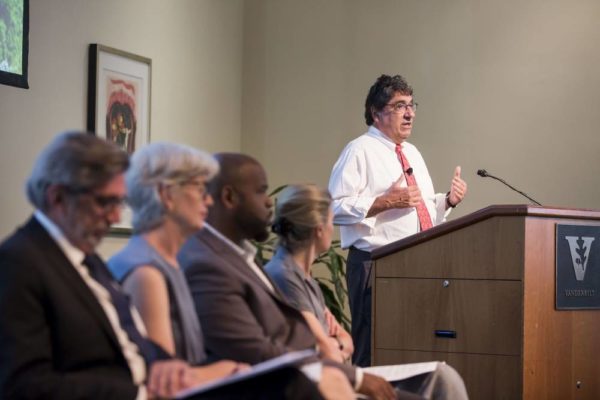 Expanding trans-institutional collaborations and strengthening support for student art research were among ideas voiced at a Chancellor's Town Hall that focused on the significance of the arts and humanities on campus and in the broader society.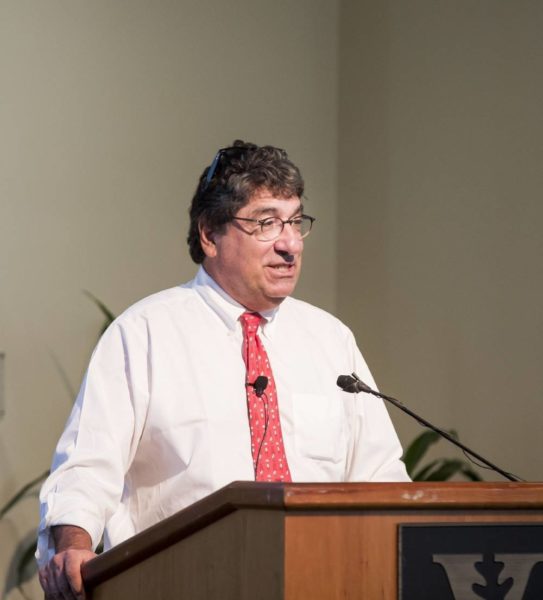 Approximately 150 faculty, students and staff attended "The Role and Impact of the Arts, Theatre and Music" at the Student Life Center Oct. 4.
Chancellor Nicholas S. Zeppos expressed concerns during his opening remarks about a recent trend among some groups to tie the value of an academic area of study to graduates' future careers. "I want to emphasize that for a great university, what we do with the arts, music and theatre is an important as any other area; it needs to be discussed, understood in a broader context and on its own terms," Zeppos said. "The long-term consequences are going to be significantly adverse for our community and our society more broadly if universities do not encourage and support our students in the arts."
Celia Applegate, the William R. Kenan Jr. Professor of History and chair of the Humanities Committee, led off four faculty presentations with a brief summary of the committee's 2017 report. She said that the challenge of finding space on campus for new initiatives could be addressed two ways: "a magnificent, capacious and central space" in which many different activities—such as galleries, state-of-the-art cinema, and a teaching museum—could be housed in close proximity; and de-centered spaces for smaller programs like a first-year Commons seminar on "What is Human?" and podcasts with visiting artists.
Mark Wait, the Martha Rivers Ingram Dean of the Blair School of Music, noted that this was the first time in his 26 years at Vanderbilt that a chancellor has hosted an event on this vital subject. While the Blair School has more than 200 music majors, it also offers a broad range of classes for students not majoring in music. "Every year, some 2,000 students—nearly a third of our undergraduate student body—enrolls in a Blair course," Wait said. "That's a ratio that no other university or college in the United States comes close to matching. It's one of the most important things we do at Blair—making music available as an essential element of the humanities and of education itself."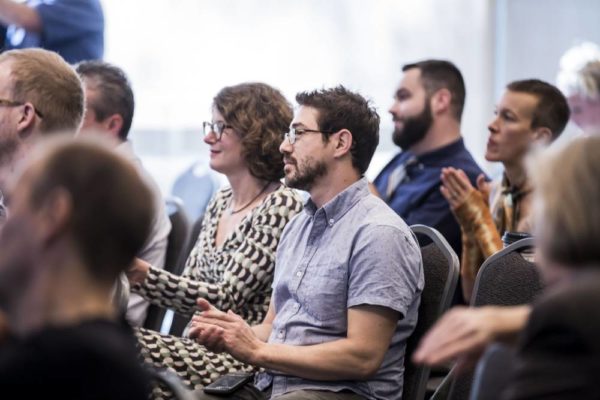 Leah Lowe, associate professor of theatre and department chair, said that she has had conversations with parents who are concerned about their students being successful "in the risky world of show business" and often with the students themselves. Lowe is a firm believer that pursuing a theatre degree or even just taking a few classes in theatre builds valuable skills for a variety of career paths.
"Making theatre requires creative problem-solving," Lowe said. "You might find yourself designing a play in which three gods visit the earth, and you only have $50 to clothe them. You must find a creative solution. Also, theatre is always collaborative, requiring different artists to communicate and work together to articulate a shared vision of the world of the play." One example of how VU Theatre engaged with the Nashville community was the 2016 production of How to End Poverty in 90 Minutes. Audience members voted after each performance on one of five approaches researched by the students to end Nashville poverty. Proceeds from the ticket sales were donated after each performance to a nonprofit that exemplified the approached selected by the audience.
Jonathan Waters, senior lecturer in Cinema and Media Arts, also emphasized the importance of engaging the Nashville community with arts-related activities on campus. Waters serves as curator and coordinator for International Lens, a free film series with a global perspective. "We are using cinema to build conversations among students, faculty, staff and the greater Nashville community on timely issues on class, gender, race and more," Waters said. "Nashville's art, film and music scene is thriving. I know that it's talked about extensively. One of our goals should be helping our students become part of that thriving scene."
Among the students speaking was Barton Christmas, a Curb Center scholar who is performing in the VU Theatre production The Language Archive. While he finds the Vanderbilt theatre community incredibly supportive, he is concerned about the need for additional financial resources for those wanting to pursue sustainable arts careers. "I look at so many of these artistic pathways as needing institutional support, like fellowships," Christmas said.
Kate Daniels, Edwin Mims Professor of English, described the model of the MFA Program in Creative Writing that she directs. "Our program is highly competitive, accepting only six students a year," she said. "We never have more than 15 students at a time, and in only 10 years of existence, we have been remarkably successful." Daniels pointed out that although her students rarely perform, unless doing a reading, Vanderbilt's MFA graduates are having a tremendously positive effect on the reputation and visibility of the university.
In response to a question from the chancellor about how best to respond to those who charge Vanderbilt with becoming an "elite university," Wait recommended more promotion of arts engagement in the community. "The best argument against elitism is to show what we do," he said. "The arts naturally break down barriers when everyone comes together for the shared idea of creating and participating in art."