By Annie Hornung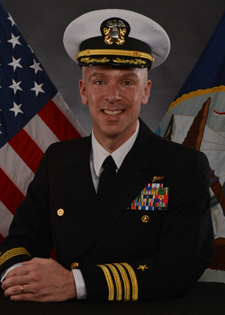 Vanderbilt is pleased to welcome CAPT Donald G. May and Lt. Col. Dustin Mitchell as commanding officers of the Naval and Army Reserve Officers Training Corps units, respectively. They bring nearly 50 years of combined commissioned service in the armed forces and extensive leadership development experience to their new roles.
May, a naval flight officer, was first commissioned in the United States Navy after completing NROTC and earning a bachelor's degree in chemical engineering at Oregon State University. May also earned a master's degree in national security and strategic studies from Air University and a master's degree in public administration from Auburn University. Having completed tours in the Western Pacific, Arabian Gulf, Caribbean Sea, Mediterranean Sea, Iraq, Japan and Kosovo, May most recently commanded the NROTC unit at Miami University and served as a professor of naval science, department chair and chief departmental adviser.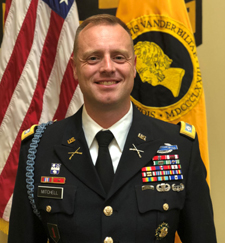 Mitchell, an infantry officer, was commissioned in the United States Army following graduation from the University of Kentucky with a bachelor's degree in electrical engineering. Following his studies at the Command and General Staff College as an Art of War Scholar, Mitchell also earned a master's degree in business administration from Western Kentucky University. In addition to his deployments to Kosovo, Iraq and Afghanistan, Mitchell brings extensive military education and training to his commanding officer role.
"The ROTC at Vanderbilt has a rich history characterized by excellence and persistence," said Cynthia J. Cyrus, vice provost for learning and residential affairs. "With the recent 100-year anniversary of the ROTC, as well as the announcement of the Bass Military Scholars Program, we are fortunate to have CAPT May and Lt. Col. Mitchell continue Vanderbilt's rich legacy in preparing Vanderbilt students for lifelong leadership."
Vanderbilt's Naval ROTC program develops midshipmen mentally, morally and physically to imbue them with the highest ideals of duty and loyalty and to instill the core values of honor, courage and commitment to prepare students for careers in naval service. "I am honored to serve as part of the team here at Vanderbilt," May said. "I see our nation's future in these students, and that future is bright."
The Army ROTC program at Vanderbilt prepares students to assume responsibilities in the United States Army, Army Reserve or National Guard through a series of electives focused on leadership and management. "It is a privilege to be a part of the very fabric of Vanderbilt University," Mitchell said. "Upon graduation, our students will go on to serve their nation, and I am grateful for the opportunity to invest in the next generation of leaders."
Those interested in learning more about the Naval ROTC and the Army ROTC are encouraged to visit their program websites.