Last week, hundreds of students, faculty, staff and community members gathered on campus to listen, learn and be inspired during "Martin Luther King, Jr. to Black Lives Matter: 50 years of Struggle." The symposium was a collaborative effort organized by the Divinity School, Law School, Peabody College, Graduate School, Office for Equity, Diversity and Inclusion and the Office of the Vice Provost for Inclusive Excellence. The schedule included two keynote addresses and four engaging panel discussions featuring scholars, policymakers, activists and influencers from across the university and the nation.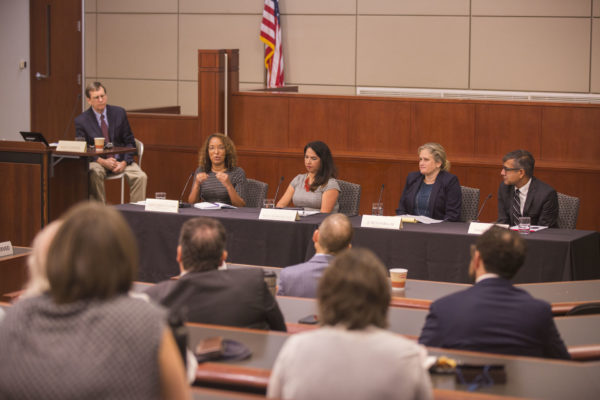 This symposium, which comes 50 years after the assassination of the Rev. Dr. Martin Luther King Jr., provided the community an opportunity to think critically about racial injustice and the social inequities that have pervaded over the last half-century. Throughout the day, panelists examined the progress our society has made since King's passing and explored the many efforts underway to confront and dismantle the injustices in our communities today.
The lunch keynote talk was delivered by Menah Pratt-Clarke, who earned both a law degree and doctorate in sociology at Vanderbilt. She is currently the vice president for strategic affairs and vice provost for inclusion and diversity at Virginia Tech. Pratt-Clarke discussed the importance of connecting through our shared humanity and fostering a more inclusive community. She also explored topics such as being fearless and courageous during difficult conversations and emphasized the importance of listening to others and seeking to understand their viewpoints.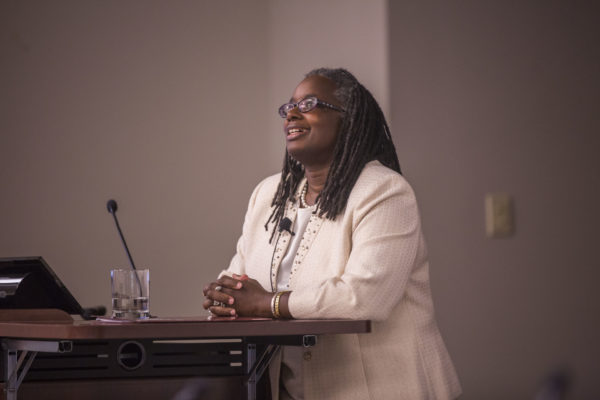 "I don't think the goal is to move to another spectrum, it's to understand. To have a level of empathy, sympathy, compassion and to ultimately value that person's humanity, as it extends beyond that one identity," Pratt-Clarke said. "None of us has just one identity; we're all multiple. We have certain salient identities. I am this and this is core, but we're all many and I think the more spaces we create for the many identities, as opposed to the one core or one or two more salient identities, the more opportunity we have to build a broader community."
The daylong symposium concluded in Langford Auditorium with an evening keynote address by Patrisse Cullors, bestselling author of When They Call You A Terrorist and co-creator of the viral Twitter hashtag and movement #BlackLivesMatter. Cullors spoke about how the Black Lives Matter movement originated, the progress the organization is continuing to make in addressing anti-Black racism, and the importance of holding those in power accountable.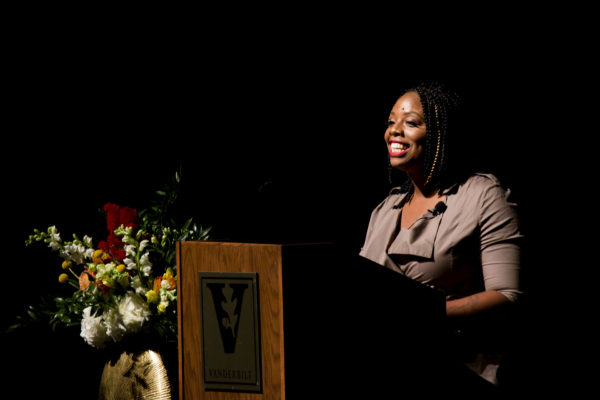 "I think this piece around giving our communities access, giving our communities the ability to hold the people that are public officials accountable is absolutely necessary when we're talking about American democracy," said Cullors. "If we can't hold the folks that we pay for accountable–that is not a democratic society."
Cullors also noted that Black Lives Matter is different from many of the social movements in the past as it does not have a central leader, but rather embraces the idea that collectively, we all have a role in advocating for the systemic and institutional changes our society needs to establish greater equity and justice.
"When we developed Black Lives Matter, we always said this is not something that we own. This is not something that is for a charismatic leader to sort of put out into the world; this is for us, this is for black folks and allies," said Cullors. "Black Live Matter is a rallying call. Black Lives Matter is a call to action. It's a light. It's a response. It's a tactic. It's a strategy."
Below are videos of each panel and a full listing of the participating panelists.
Vanderbilt Divinity School Panel
Anthea Butler, University of Pennsylvania
Eddie Glaude, Princeton University
Eboni Marshall Turman, Yale University
Vicki Crawford, Morehouse College
Emilie Townes; Moderator, Vanderbilt Divinity School
Vanderbilt University Law School Panel
Sameer Ashar, UCLA School of Law
Rocio Alejandra Avila,  National Domestic Workers Alliance
Llezie Green Coleman, American University Washington School of Law
JJ Rosenbaum, Harvard Law School
Dan Sharfstein; moderator, Vanderbilt Law School
Vanderbilt Peabody College Panel
Ebony McGee, Vanderbilt Peabody College
Tesha Sengupta-Irvin, Vanderbilt Peabody College
Nic Stone, author of Dear Martin
Nicole Joseph; moderator, Vanderbilt Peabody College
Vanderbilt University Graduate School Panel
Gilman Whiting, Vanderbilt University
Frank Dobson, Vanderbilt University
Camille Burge, Villanova University
Don Brunson; moderator, Vanderbilt University