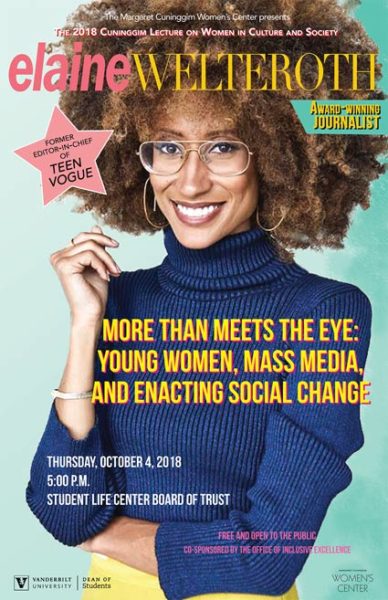 The 2018 Cuninggim Lecture on Women in Culture and Society—presented Thursday, Oct. 4, by the Margaret Cuninggim Women's Center—will feature Elaine Welteroth, former editor-in-chief of Teen Vogue, who was responsible for the magazine's increased focus on politics and social justice issues. As editor-in chief, Welteroth was the youngest person and the second African American ever to hold that title in Conde Nast's 107-year history.
Welteroth's lecture, "More Than Meets the Eye: Young Women, Mass Media and Enacting Social Change," will be at 5 p.m. in the Student Life Center Board of Trust Room. The event is free and open to the public.
The Cuninggim Lecture on Women in Culture and Society offers an occasion to raise awareness about the ways in which gender shapes and is shaped by our lived experiences. Each Cuninggim lecturer empowers Vanderbilt community members to expand their activist reach and become more involved in positive social change outside the university.
This year's Cuninggim Lecture is co-sponsored by the Office for Inclusive Excellence. For more information on the Cuninggim Lecture, contact Rory Dicker, director of the Margaret Cuninggim Women's Center