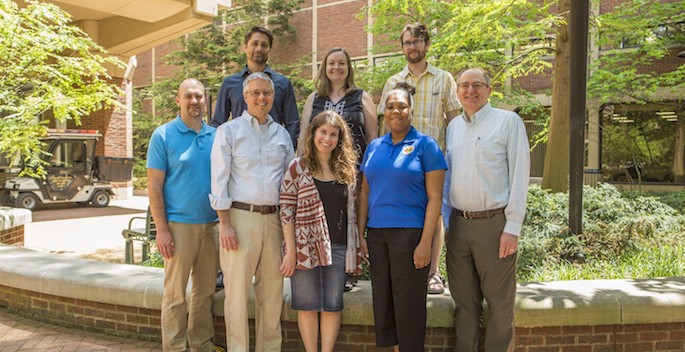 Vanderbilt and Tennessee State universities are joining forces to significantly increase the number of underrepresented minorities studying the geosciences.
The new partnership, called Earth Horizons, will increase the range and availability of earth and environmental science courses offered to undergraduate students from both schools, coordinate students taking classes outside their own institutions, educate students about potential careers in the geosciences and provide paid summer research internships and field experiences.
Project leaders from earth and environmental science programs at Vanderbilt and TSU agree that minority groups are vastly underrepresented in geosciences.
By combining Tennessee State's success in attracting minority students to STEM majors with Vanderbilt's strength in geoscience education and research, the Earth Horizons program aims to increase the diversity of the geoscience workforce.
The program emphasizes experiential learning with the goals of developing a geoscience career pathway for TSU students and transforming the public perception of geoscientists. To accomplish this, the project leaders will work with local, state and federal agencies to develop hands-on learning opportunities in the field and meaningful partnerships for supporting program graduates long term.
"We want to connect students with community internships in the earth and environmental sciences in their final year," said Jessica Oster, assistant professor at Vanderbilt and an Earth Horizons partnership founder. "They can work with the Tennessee Department of Environment and Conservation, Metro Water, the U.S. Geological Survey or a number of other agencies, and they will be doing things that improve our everyday lives."
De'Etra Young, assistant professor of urban forestry at TSU, said many minorities don't hear about the wide range of jobs that degrees in the geosciences will earn them – everything from working in the oil and gas industry to protecting and fixing communities' water supplies.
"There's a lack of knowledge out there, and we want to repackage the geosciences in a way that makes them more attractive to students," Young said.
Vanderbilt courses are available to TSU students for the same cost as those at their home institution, and Vanderbilt students will be able to take TSU courses in soil science and forestry. The partnership is funded through a total $350,000 GEOPATHS grant from the National Science Foundation.
Students interested in participating in the Earth Horizons program should visit the Earth Horizons website and can contact Young or Oster.
The grant proposal was supported by Vanderbilt's Leveraged Proposal Organization and Development Program. L-POD offers proposal development assistance and is part of the Provost's Initiatives to Enhance Research and Scholarship in the Office of the Vice Provost for Research.
Faculty interested in requesting proposal support or learning more can contact Hilda McMackin or Liane Moneta-Koehler.