The Office of the Provost, in partnership with the Division of Communications' Digital Strategies group, has developed a new university website to better connect the Vanderbilt community to the various outlets for shared governance and to serve as a repository for related best practice resources.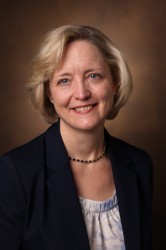 The Shared Governance at Vanderbilt site includes information on the various councils and administrative bodies that engage the university—from Vanderbilt Student Government and the Faculty Senate to University Staff Advisory Council and the Board of Trust.
The site also includes best practices for forming committees and conducting committee work, as well as an overview of how initiatives are managed through the provost's office.
"All segments of the Vanderbilt community are engaged in providing feedback, which is critical to the decision-making process," Vice Chancellor for Academic Affairs and Provost Susan R. Wente said. "This new website will be a tool for increased engagement and information, as well as a place for those who are serving the university through committees to find guidance on how to be the most effective. Our goal is to enhance outreach, communication and transparency in order to make the most informed decisions about the future of Vanderbilt."
These efforts come in response to the Shared Governance Committee's report, which recommended a focus on enriched communication and broadened faculty involvement. The committee was co-chaired by Richard Willis, Anne Marie and Thomas B. Walker Jr. Professor of Accounting, and Holly McCammon, Cornelius Vanderbilt Professor of Sociology.
"Holly and I were privileged to work in partnership with the Faculty Senate and an insightful group of faculty committee members from all corners of campus to develop the set of recommendations put forth in the report. We are excited to see some of the committee's ideas come to fruition through this new site," Willis said. "Having a constructive and collaborative process for university decision-making and priority setting is the foundation of shared governance. These new tools will encourage more to get involved."
Feedback on the new website and resources are encouraged and may be submitted via this online form.