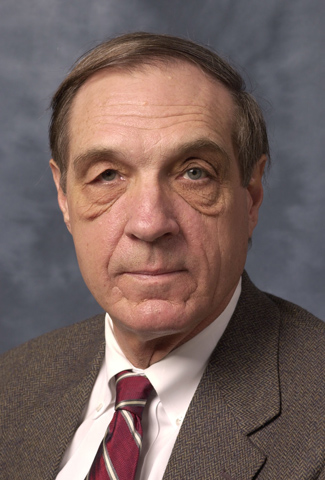 James Sandlin, a former Sarratt Student Center director who worked tirelessly to expand cultural offerings on campus and to improve the quality of life in Middle Tennessee, died Sept. 19. Sandlin, 77, passed away at his home in Unionville, Tennessee, after a brief illness.
Sandlin, who earned a bachelor of arts from Athens College, received his master of divinity from Vanderbilt in 1969. He went to work as assistant dean of students for men after meeting K.C. Potter, now dean of residential and judicial affairs, emeritus, at a higher education conference.
"One of my memories of James that speaks volumes about his integrity and character was an incident with racial overtones at Branscomb Quadrangle," Potter said. "This was shortly after James began working on campus. He met with the students immediately and told them that no racism would be tolerated under his watch."
Sandlin played an integral role in the discussion and planning of Sarratt Student Center, where he became the director at its opening in 1974.
"Even prior to Sarratt, James worked closely with students to bring noted and emerging performers—like Steve Martin and Jimmy Buffet—to campus," said Steve Caldwell, a retired student affairs dean. "He used space wherever he could find it, including Alumni Hall and Carmichael Towers. James and the students would search out up-and-coming acts and even bring them to a recreation room in a dormitory. The students loved the experience."
As director of Sarratt, Sandlin was responsible for the facility's operations, including the production of numerous student and community events, like Rites of Spring. Meanwhile, Vanderbilt student media, student government, and creative arts outside of the classroom—including a cinema and a pottery studio—all flourished at Sarratt under Sandlin's leadership. He also served as principal adviser to the Honor Council.
Sandlin founded Vanderbilt's Performing Arts series, which exposed the Vanderbilt and Nashville communities to renowned dance companies such as Trisha Brown, Alvin Ailey and Momix; and musicians like Dave Brubeck and Lyle Lovett.
A 1993 article in the Vanderbilt Hustler was headlined "Sandlin leads heart of Vanderbilt." Sandlin told the writer that he devoted significant time to advising students as they worked to form a consensus on what bands and films to bring to campus.
"James' lasting influence on the Vanderbilt community is reflected in those students—now alumni—that he mentored," Potter said.
His community activities were numerous, serving on boards for Tennessee Special Olympics, Nashville Institute for the Arts, Sinking Creek Film Celebration (now Nashville Film Festival) and West End United Methodist Church. He was also active with the Tennessee Performing Arts Center, Tennessee Jazz and Blues Society, and Metro Arts Commission, among others. In 1994, he took a temporary leave of absence from Vanderbilt to serve as interim executive director of the Nashville Symphony during a time of transition there.
Sandlin became a special assistant in Vanderbilt's Office of University Relations in 1997. During that time, Vanderbilt "loaned" him to the Nashville Civic Design Center as its first director.
He is survived by his wife, Susan Hundley Sandlin; and four children, Laura Moore, Mary Sandlin, Andrew Sandlin and Kathryn Sandlin Morel. Other survivors include his brother, Charles Sandlin; a niece, Selena Lindsey; 10 grandchildren and one great-grandchild.
Visitation for Sandlin will be at West End United Methodist Church on Saturday, Sept. 22, at 9:30 a.m.; followed by a service at 11 a.m.