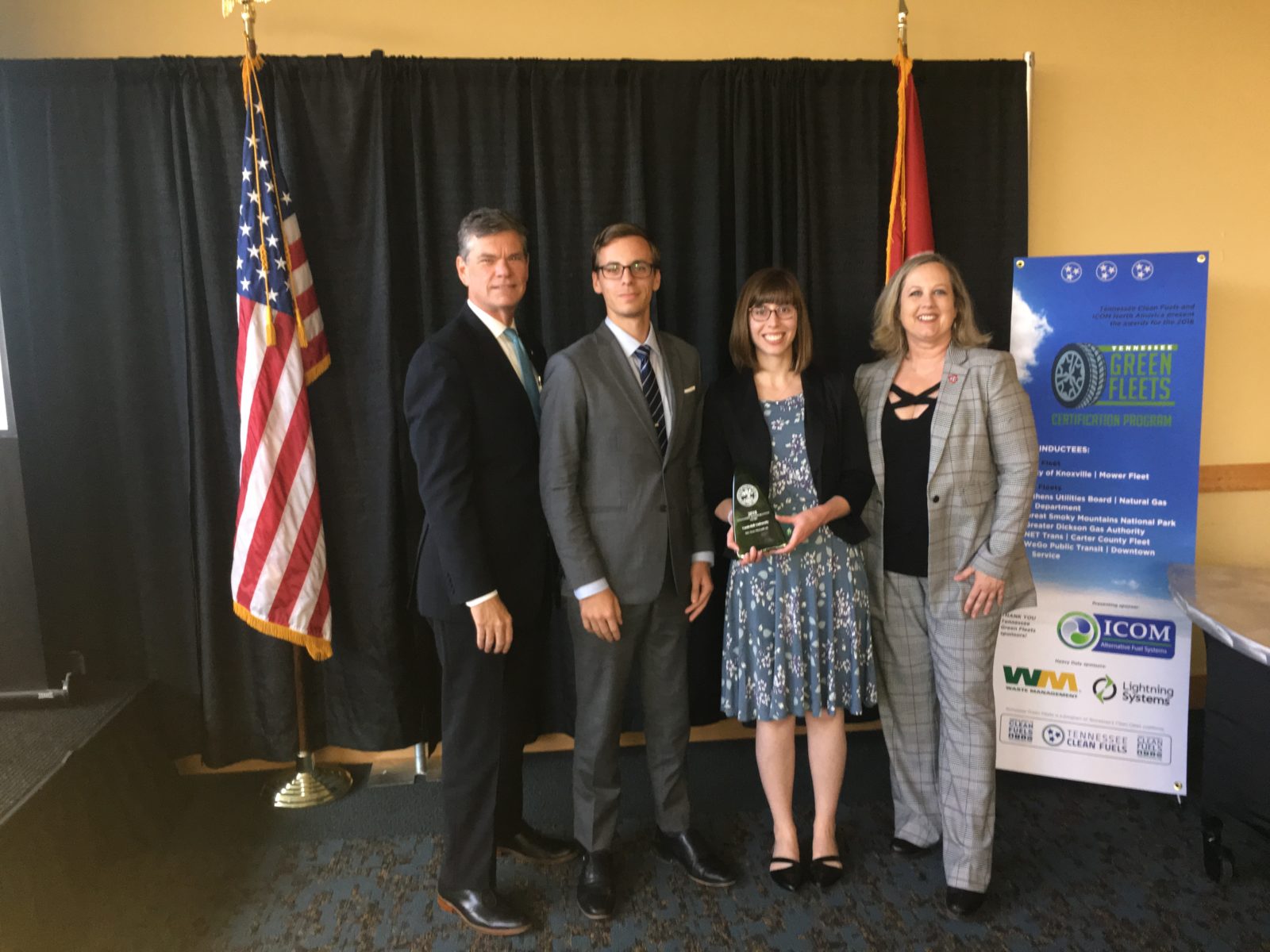 Vanderbilt University's pilot of the bike-sharing service ofo has won a Tennessee Sustainable Transportation Award from the Tennessee Department of Environment and Conservation. TDEC presented the award to university representatives on Sept. 18.
"We are honored to be recognized by the state for our efforts in sustainability," said Eric Kopstain, vice chancellor for administration. "Creating a more sustainable and healthy campus community is not an easy or quick undertaking, but it is the right thing to continue striving for. Knowing we succeeded in one pilot is not enough; we must keep the momentum going to achieve our long-term goals of making a major environmental impact on campus and in the region."
Using the FutureVU guiding principles as inspiration, students designed the project and worked with faculty, staff and ofo to create a short-term pilot focused on increased mobility while reducing carbon emissions across campus. The pilot, a small-scale experiment testing out the theories for FutureVU's large-scale campus vision to prioritize mobility, accessibility and sustainability through reduction of traffic, cars and roadways while enhancing community and connectivity through green space, was a success.
Will Barbour, a Ph.D. student in the School of Engineering, collected and analyzed the pilot data. During the first month of the pilot, there were more than 4,000 active riders on campus; 64,000 bike trips taken; 1.3 million calories burned, the equivalent of 519 marathons; and over 9,500 pounds of carbon dioxide prevented, which is the equivalent of planting 199 trees.
More importantly, the positive response from the community solidified the answer to the question if there were desire for alternative modes of transportation across campus.
In attendance to receive the award was Ashley Majewski, program coordinator in the Office of the Vice Chancellor for Administration, and Barbour. Majewski spearheaded efforts on behalf of the administration to work with the students creating an integrated, collaborative partnership during the pilot.
In August 2018, Vanderbilt expanded its alternative-vehicle options.
In 2016, the university won the Tennessee Sustainable Transportation Award for its alternative transportation programs.
For more information on the university's sustainability efforts, visit the FutureVU and SEMO websites.