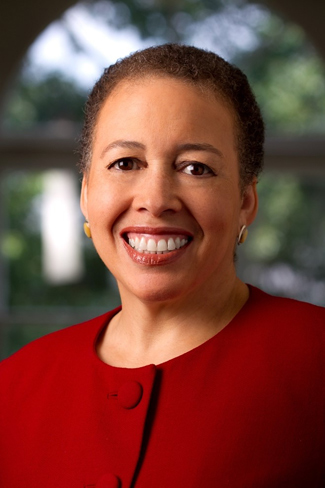 Beverly Daniel Tatum, best-selling author of Why Are All the Black Kids Sitting Together in the Cafeteria? and president, emerita, of Spelman College, will deliver the fifth annual Crawford Lecture at 4 p.m. Thursday, Sept. 20, in Sarratt Cinema. Her talk, "The ABC's of Effective Leadership for the 21st Century," will explore the importance of leading through the lens of inclusion.
A clinical psychologist by training, Tatum is a nationally recognized authority on topics of racial identity development, race and education, strategies for creating inclusive campus environments and higher education leadership. From 2002 to 2015, Tatum served as president of Spelman College. Her dynamic leadership brought about great innovation and growth, and her efforts were recognized in 2013 with the Carnegie Academic Leadership Award.
A longtime civic leader in the Atlanta community, Tatum is actively engaged in many initiatives designed to expand access to educational opportunities for underserved students and their families. Tatum also serves on the governing boards of several organizations, including Morehouse College, Smith College, Achieve Atlanta, Georgia Power Company and the Educational Testing Service. Throughout her career, she has been honored with many prestigious distinctions. Among her most notable accolades are a 2005 Brock International Prize in Education and a 2014 APA Award for Outstanding Lifetime Contributions to Psychology.
"Dr. Tatum's scholarship has made a difference in classrooms as well as communities throughout the United States. As a researcher and as a leader in higher education, she has challenged all of us to identify both structural and individual changes needed to promote inclusion and equity within a wide range of educational settings," said Vanessa Beasley, associate provost and dean of residential faculty. "We are honored Dr. Tatum accepted our invitation to give the Crawford Lecture, and I am especially pleased that the format for her remarks will include a conversation between Dr. Tatum and Dr. Melissa Thomas-Hunt, vice provost for inclusive excellence."
In addition to giving the Crawford Lecture, Tatum also will participate in a panel discussion at noon Friday, Sept. 21, at the Bishop Joseph Johnson Black Cultural Center as part of the Women in the Academy series. This series, which is coordinated by the Margaret Cuninggim Women's Center, provides Ph.D. students who are just beginning their journeys in academia with the opportunity to engage with more seasoned academics about various aspects of their professional lives.
In addition to Tatum, the panel will include Menah Pratt-Clarke and Elizabeth Langland. Pratt-Clarke, who received her law degree and Ph.D. in sociology from Vanderbilt, is currently the vice president for strategic affairs and vice provost for inclusion and diversity at Virginia Tech. Langland is the director of the Institute for Humanities Research and interim dean of humanities in the College of Liberal Arts and Sciences at Arizona State University. A Vanderbilt faculty member at the beginning of her career, Langland sued the university in the 1980s after she was denied tenure by the then-dean of the College of Arts and Science. Throughout the program, panelists will discuss some of the challenges they have faced in their careers and offer advice to students considering the merits of taking on leadership roles in the academy.
The Crawford Lecture on women, engaged citizenship and leadership began in 2014 and was established in honor of Frank Armstrong Crawford Vanderbilt, the second wife of Cornelius Vanderbilt. Past speakers include Rosalyn Durant, senior vice president of college networks and programming for the SEC Network, and the Rev. Becca Stevens, founder and president of Thistle Farms. Both the Sept. 20 lecture and Sept. 21 panel are free and open to the public.
The Crawford Lecture is sponsored by The Martha Rivers Ingram Commons, the Panhellenic Council, the National Pan-Hellenic Council, the Margaret Cuninggim Women's Center and the Office of Student Leadership Development.
Upcoming programs in honor of the Women's Center's 40th anniversary include:
Getting Women in Vanderbilt's Game: The Trailblazing Career of Stella Vaughn
Tuesday, Sept. 25
12:15 p.m.
Robert Penn Warren Center for the Humanities
Led by Mona Frederick, executive director of the Robert Penn Warren Center for the Humanities
Does Vanderbilt Still Need Feminism?
Wednesday, Sept. 26
5 p.m.
Kissam C210
Panel discussion
To learn more, please visit the Women's Center's website.