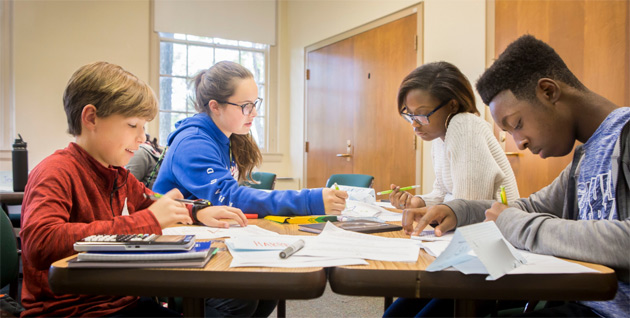 Vanderbilt Programs for Talented Youth's Weekend Academy at Vanderbilt University is an all-day Saturday experience for students in grades 7-10, designed with early career exploration in mind. WAVU incorporates accelerated laboratory courses led by professionals in their fields and an opportunity for in-depth career exploration, along with support and resources for families.
What you need to know:
At WAVU, students can choose from a number of eye-opening explorations of fields led by Vanderbilt professors, Ph.D. students, and content experts. Students engage with cutting-edge professionals right here on Vanderbilt's campus. Click here to learn more about this year's exciting course offerings.
Gifted students typically begin thinking about college and career paths earlier than their age peers and may not know what types of opportunities beyond mainstream careers are available to them. WAVU works to help students explore unique careers that might not otherwise have been realized.
Fall WAVU is Saturday, Nov. 10, 2018. Spring WAVU is Saturday, Feb. 16, 2019. The full day will span approximately 10-12 hours, with lunch and dinner provided for the student.
Mark your calendar for our 48-hour application priority window: noon Tuesday, Sept. 18–noon Thursday, Sept. 20. You can apply for fall, spring or both during this window.
Interested in learning more? Click here to visit the WAVU page on our website, or give our team a call at 615-322-3173.
Priority application window:
Noon Tuesday, Sept. 18–noon Thursday, Sept. 20
Program dates:
Fall WAVU: Nov. 10, 2018
Spring WAVU: Feb. 16, 2019