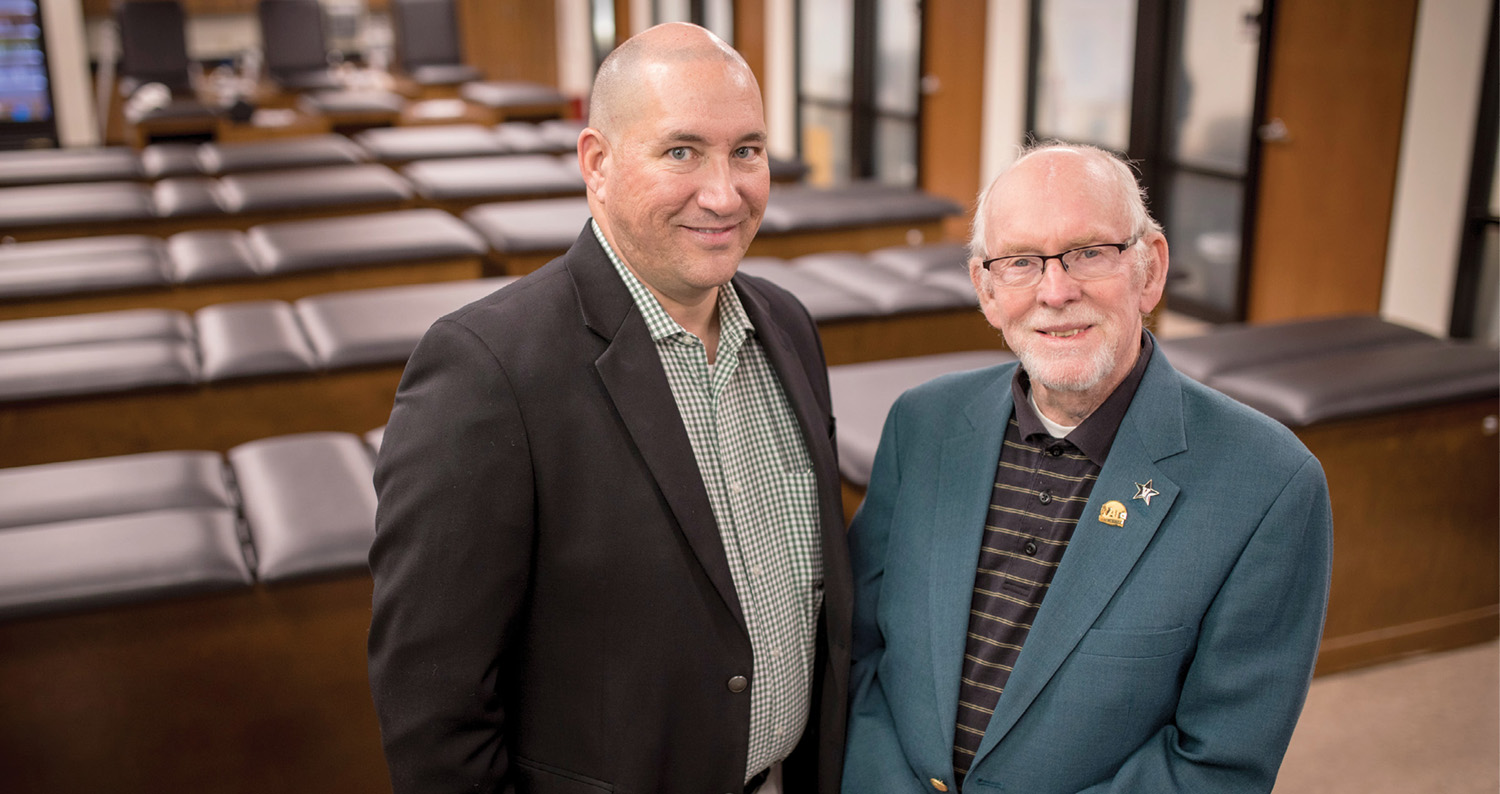 Nashville native J. Lindsy McLean, BA'60, was a self-described "Hillsboro High School junior in charge of the football team's first-aid kit" when he saw an announcement in the local paper that would forever alter his life. The ad was for a class on sports injuries taught by legendary Vanderbilt head athletic trainer Joe Worden, and though it was targeted at coaches, McLean received permission to sit in on it.
The experience not only would have a profound impact on his professional calling but also cement what has become a lifelong devotion to Vanderbilt.
"I used the notes from that class to teach similar courses for the next two decades," recalls McLean, who himself went on to have a legendary career as a head athletic trainer, most notably with the San Francisco 49ers organization, where he won five Super Bowl rings during nearly 25 years with the team.
Two years after that fateful class, McLean began working under Worden as a student athletic trainer at Vanderbilt. What he initially thought would be just a freshman hobby became by year's end a singular dream—one that would prove an enduring connection to Vanderbilt athletics well after his graduation.
McLean went on to act as a de facto Vanderbilt recruiter, seeding the head athletic trainer position from the 1970s to the 1990s with candidate recommendations that make up a who's who of luminaries in the field. Among them were John "Jack" Redgren, an inductee—along with McLean and Worden—into the National Athletic Trainers' Association Hall of Fame; John Norwig, who later became head athletic trainer for the Pittsburgh Steelers; and Fred Tedeschi, who followed his time at Vanderbilt with a position as head athletic trainer for the Chicago Bulls.
Recently, McLean decided to acknowledge the impact of Worden's mentorship and all the ways in which he has benefited from his Vanderbilt experience by giving back to the program that set him on his path to success.
"I've been very fortunate to be in the right places, but I never would have had those opportunities or inclinations if it hadn't been for this community," he says. "I would not have had the career I did without Vanderbilt."
His bequest, allocated in two parts to the Department of Athletics, ensures that future athletic trainers are given every opportunity to succeed. The Athletic Training Room Hall of Fame Scholarship provides need-based student athletic trainer assistance, while the Athletic Training Room Endowment helps the department maintain a modern, state-of-the-art training facility.
"It's unprecedented," says Tom "Boz" Bossung, MEd'92, Vanderbilt's current head athletic trainer, of the planned gift. "The support staff is rarely seen, but vital to athletics. This gift directly benefits them."
As both McLean and Bossung can attest, athletic trainers occupy a unique place in sports. They may not receive many kudos for their work, but their expertise and tireless dedication are critical to helping the athletes in the spotlight stay on top of their game.
"We're always behind the scenes, and that's where we want to stay," Bossung says. "If you see me on television, that's not good. It means I'm assisting an injured player."
An ardent Commodores fan, McLean is enjoying the proximity to games his Nashville retirement affords, though he confesses with a laugh, "Most of the time that I've got my binoculars out, I'm watching Boz taking care of the players." McLean calls Bossung "the most unsung guy in the SEC."
Bossung, though, is quick to return the respect. "As a young graduate assistant," he says, "I looked at Lindsy's career and thought, 'That's who I want to be.'"
—LILY KANE
---