Media Inquiries
Latest Stories
By Ryan Underwood, BA'96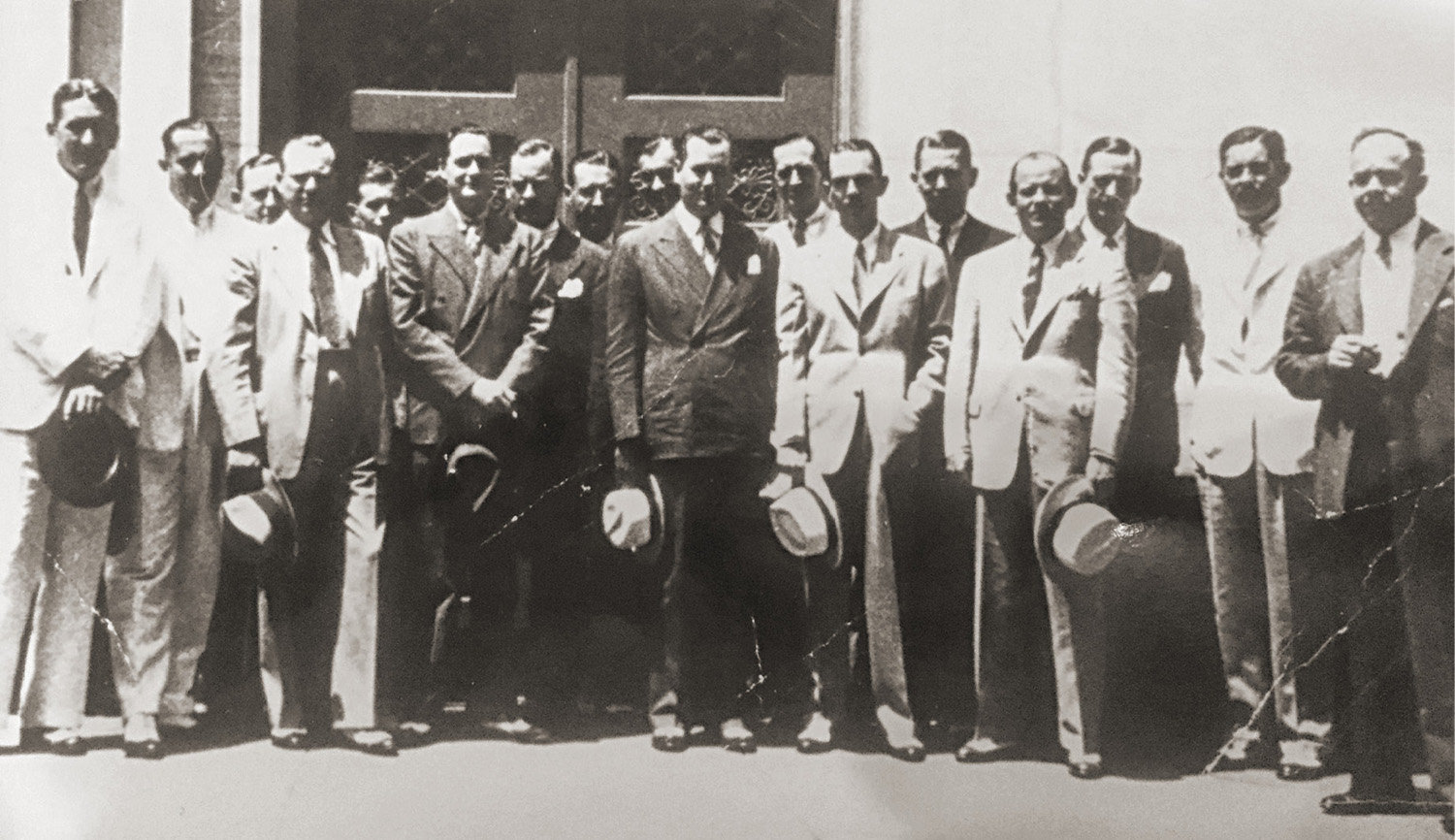 The Owen Graduate School of Management's most prominent benefactors are well known to the school's students and alumni, starting with Ralph, '28, and Lulu Hampton Owen. There's also Brownlee O. Currey, BA'23, Frances Hampton Currey (Lulu's sister) and their son Brownlee O. Currey Jr., BA'49. Then there are places like the Thomas B. Walker, BA'47, Management Library and the H. Laird Smith, BA'27, Courtyard, both of which have undergone recent renovations.
One name, however, is not often mentioned, and it's one of the most important of all: Equitable Securities Corp. That name binds many of the Owen School's earliest and most stalwart supporters—those perhaps responsible for the very existence of the school itself.
Founded in December 1930 as a municipal bonds dealer in Nashville amid the first shocks of the Great Depression, Equitable grew within a generation to become the second largest investment bank in the nation, behind only Merrill Lynch. A shrewd purchase of American Express stock, spearheaded by Brownlee Currey, who died in 1952, helped fuel Equitable's growth throughout the 1950s and 1960s. That investment led to Ralph Owen's appointment as board chairman of American Express in 1960 and the company's eventual acquisition of Equitable in 1968.
Around the same time that Equitable saw its fortunes grow, many of its executives were working behind the scenes to convince Vanderbilt's Board of Trust to launch a graduate school of management. Once Chancellor Alexander Heard and the board agreed to move forward with the proposal, the school was kept afloat in its rocky early years by the financial support and expertise of many of the same individuals who had ties to Equitable.
In early 1990, Madison S. Wigginton, BA'22, MA'23, a former member of Vanderbilt's Board of Trust and an Owen benefactor, convinced J. Dewey Daane, a longtime professor at the Owen School and former Federal Reserve governor, that he should write a history of Equitable Securities. Daane agreed, setting out to interview former employees and associates "to tell the story—and I sincerely believe it is a great story—in human terms rather than corporate statistics," he wrote in an early draft. Despite the work he put into it, Daane did not finish a manuscript before he died in January 2017.
At the time of his death, Daane had filled four large storage boxes with material, which his widow, Barbara, has since donated to Vanderbilt's Jean and Alexander Heard Libraries. The research includes transcripts of 26 one-on-one interviews with people such as William Cammack, BA'52, who joined Equitable before the sale to American Express, later served as president and CEO, and is now chairman of the current Equitable Trust Co.; Andrew Benedict, BA'66, MDiv'83, a former Equitable vice president; and Ewing "Commodore" Bradford, BA'27, a key Equitable figure who worked at the company into his 80s and died at his desk.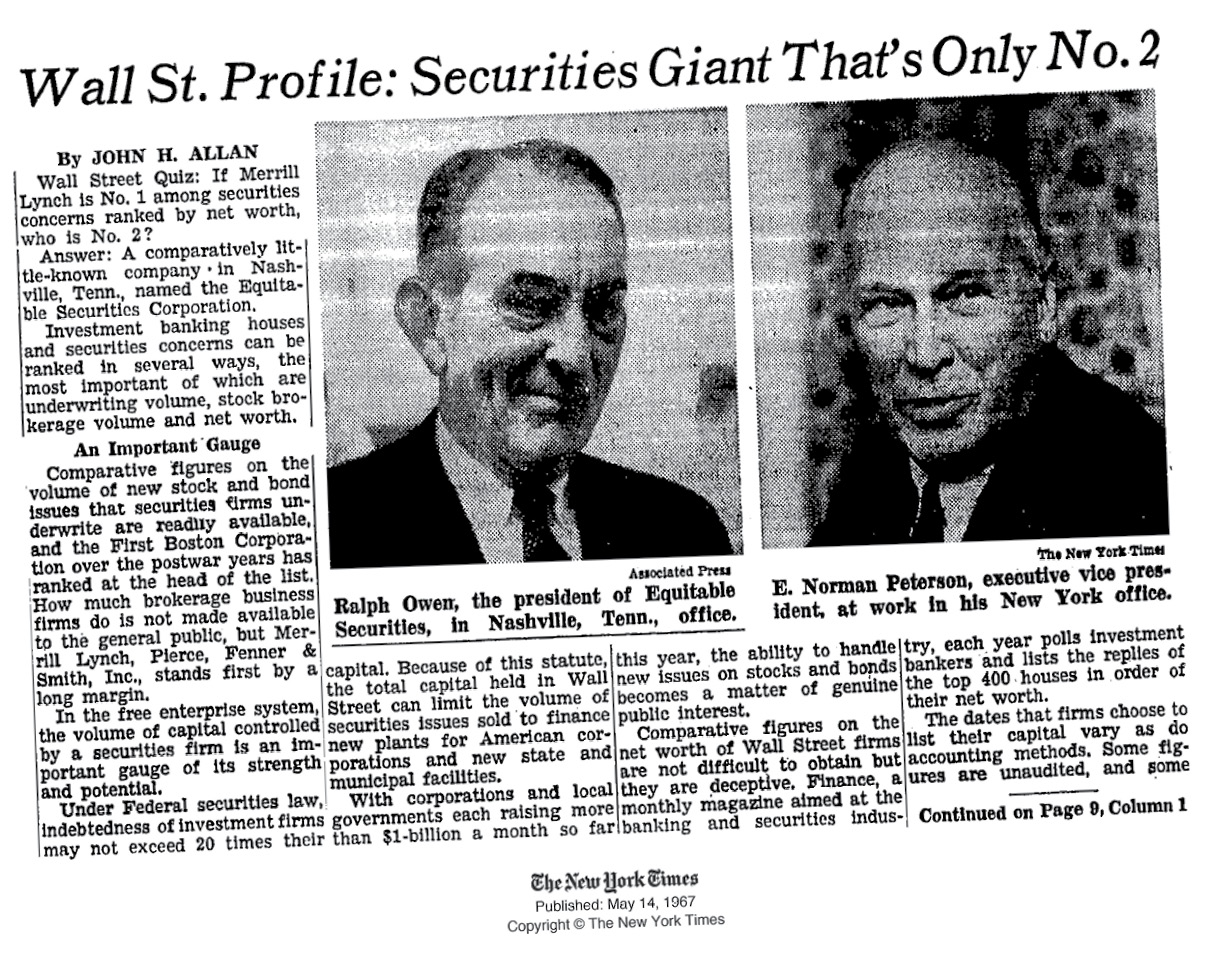 CRISIS LEADS TO OPPORTUNITY

Equitable's roots trace back to the Nashville investment bank Caldwell & Co., where Equitable founders Brownlee Currey, Ralph "Peck" Owen and George Bullard worked as municipal bond dealers. Caldwell & Co. thrived throughout the 1920s, earning its owner, Roger Caldwell, the nickname "J.P. Morgan of the South." But by Nov. 14, 1930, Caldwell & Co. faced soured investments, coupled with panicked customers withdrawing deposits from the banks it owned, forcing it into bankruptcy. That's when many say the Depression really hit Nashville. As many as 120 banks across the South failed, and unemployment shot to 25 percent.
The three main Equitable founders either lost their jobs or left to avoid that eventual outcome. Less than a month later, they pooled together about $50,000, aided by H. Laird Smith and Cale P. Haun, to start Equitable Securities.
"At the outset, they were determined to create the most sound and conservative securities firm not just in Nashville but in the entire Southeast region," Daane writes in his draft. "Brownlee was in many ways the acknowledged leader and spark plug of the firm—the deal maker par excellence. Peck was the cautious conservative whose judgment reflected a careful and judicious temperament that lent great stability to the company. And George Bullard is generally credited as the most brilliant of the trio, as well as the one whose family ties and resources were instrumental in the firm's beginnings and initial growth."
Equitable grew at a slow and steady pace until about 1949. That's when board minutes detail Currey's efforts to acquire shares of American Express, which had been offered to the firm by Albert Wiggin, the former chairman of the institution that would become Chase Manhattan Bank.
Though Currey didn't live to see the full payoff of the American Express investment, Equitable emerged as the company's largest shareholder by the spring of 1967, with a stake worth nearly $70 million, according to The New York Times. The Times estimated the firm's net worth at the time to be around $90 million total, behind only Merrill Lynch, with a net worth of about $161 million. One key innovation, the story noted, is that Equitable didn't limit itself to offering services just to outside customers—it also traded in its own accounts.
By the end of 1967, American Express acquired Equitable in an all-stock deal then valued at $110 million. The subsidiary was paired with a similar financial services company that American Express had purchased a year earlier, creating a new unit called Equitable Securities, Morton & Co.
After only three years together, in 1970 American Express began closing Equitable Securities offices around the country and exploring a sale of the unit. That deal came two years later when William Cammack, the current chairman of Equitable Trust, led a group of investors who bought the Equitable name and various other assets from American Express.
Equitable Trust Co. was created in 1991 as a subsidiary of Equitable Securities, though today it is the company that remains, managing more than $2 billion for families and institutions from its Nashville headquarters.